Recent Study Casts Doubts on Safety of School Bus Drivers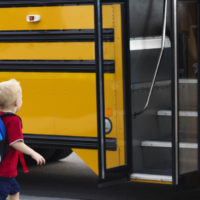 New York State has enacted laws that create high safety standards for school bus drivers. According to a recent report from the state Attorney General's office, these laws, geared at protecting schoolchildren from dangerous bus drivers, appear to have a loophole that has permitted thousands of traffic violations by bus drivers to go unreported.
Under New York law, school bus drivers are required to undergo a background check and provide a full disclosure of their driving history before being allowed to get behind the wheel of a bus. The relevant section of the vehicle code requires drivers to report their involvement in any traffic accidents, as well as any traffic convictions they receive that result in points on their driver's license. Bus drivers will be removed from their driving positions if they receive nine points on their license within 18 months. While a ticket for running a red light when issued by a police officer will result in three points being added to the ticketed driver's license, red light camera tickets don't result in license points. The law does not explicitly require bus drivers to report receiving red light camera tickets.
Several months ago, the Attorney General's office began looking into the safety records of the state's school bus drivers. The office gathered data on the number of red light camera tickets issued to bus companies in Suffolk and Westchester counties. Earlier this month, New York State Attorney General Eric Schneiderman released a report titled: "Wrong on Red: Report on School Bus Traffic Light Violations" summarizing the findings of their research. According to the report, school buses in Suffolk county were cited for red light camera violations almost 1,200 times between 2014-2016. Buses in Westchester county received nearly 300 red light camera citations in 2016 alone. For counties without red light camera programs, this data might offer a glimpse into the number of red light violations occurring undetected by law enforcement.
In response to the troubling findings, Attorney General Schneiderman said, "Every morning, more than two million New York children are put on school buses by families that trust they'll be safe. Unfortunately, New York law has a safety loophole big enough to drive a school bus through. . . . It's time for action to protect our kids by requiring bus companies to report red light violations to the state and the school districts they serve, and to use those violations in driver evaluations. We must crack down on the problem now, before it turns tragic."
If your child has been injured in a school bus accident in New York, find out if you have a claim for money damages based on that accident by contacting the knowledgeable and effective Goshen personal injury lawyers at the Law Office of Taran M. Provost, PLLC for a consultation, at 845-675-3243, with additional offices in Poughkeepsie and Mahopac.