Fatal Hyde Park Tractor-Trailer Crash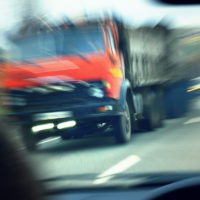 A woman driving a compact SUV was recently killed in an accident involving a tractor-trailer. The accident occurred in Hyde Park in Dutchess County. The recent crash is another addition to the growing number of fatal large truck crashes across the country. Learn more about the accident below, and contact a Poughkeepsie personal injury attorney at the Law Office of Taran M. Provost, PLLC if you've been hurt in a tractor-trailer crash in Hyde Park or New York.
Hyde Park Woman Killed in Crash Involving Tractor-Trailer
State police responded to a call at around 11:45 a.m. on a recent Sunday to reports of an accident. According to initial reports, a 32-year-old Hyde Park woman was driving a 2005 Honda CRV southbound on Route 9 when she lost control of her vehicle and swerved into the oncoming lane. She struck a southbound 2017 Freightliner tractor-trailer driven by a 49-year-old Brooklyn man. The collision occurred on Albany Post Road/Route 9, south of Mills Cross Road, in the Town of Hyde Park. Following the crash, the Hyde Park resident was pronounced dead at the scene by Northern Dutchess Paramedics.
Recently-Released Federal Statistics Show Large Truck Crash Fatalities Still on the Rise
As we have previously discussed, traffic accidents involving large trucks are particularly dangerous for motorists across the country. Efforts are being made to push for stronger safety features, including self-driving trucks, but for now, fatal truck crashes are still happening more and more each year. Due to their sheer size, accidents involving large trucks are often fatal, and the danger persists even where the trucks are manned by attentive, careful drivers. The majority of the fatalities are not the truck drivers themselves but instead are the occupants of passenger cars with which the trucks collide. The Department of Transportation's (DOT) Federal Motor Carrier Safety Administration (FMCSA) just issued their report on large truck and bus crashes in 2017.
According to the report, fatal crashes involving large trucks have been steadily rising since they hit a low in 2008. There were 4,455 fatal crashes involving large trucks or buses in 2017, an eight percent increase from the 4,116 fatal crashes in 2016. These crashes resulted in a total 5,005 deaths in 2017, up from 4,629 in 2016. These are the deadliest annual truck crash numbers since 2007, and if the trend continues, fatalities could reach the numbers of the late 1990s when there were around 5,700 deaths per year from large truck crashes.
If you or a loved one has been injured or killed in a truck accident in New York, seek experienced legal help to evaluate your potential claims by contacting the dedicated and passionate Poughkeepsie personal injury lawyers at the Law Office of Taran M. Provost, PLLC for a free consultation at 845-675-3243.