Autonomous Trucks Could Save Lives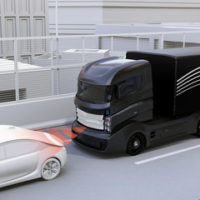 Large commercial trucks such as tractor-trailers and 18 wheelers are some of the potentially-deadliest vehicles on American highways. Even when operated by seasoned, attentive drivers, these gigantic machines carry the potential to do immense harm. Some safety experts are beginning to ask why these huge trucks don't take advantage of the new developments in safety technology by incorporating the safety features that are now available on many passenger vehicles. Read on to learn about possible improvements in roadway safety that could be gained by using advanced safety and automation technologies in large trucks, and contact an experienced New York truck accident lawyer if you've been hurt in a truck accident in the Hudson Valley.
More truck accidents per year mean safety improvements are needed
Across the spectrum of accident types, fatalities on US roads have been on a steady rise for the past three years. Fatal motor vehicle accidents involving tractor-trailers and other large trucks are no exception. In 2016, the National Highway Traffic Safety Administration tallied 4,300 fatalities in accidents involving large commercial trucks. This is an increase of over 5% from the previous year.
In order to address this rise, safety experts have begun to look at what carrier companies might do to improve the safety of their fleets. While many passenger vehicles now come with such advanced crash prevention features as front-crash warning systems, automatic emergency braking, and blind-spot warning systems, few large trucks possess these systems. According to the Insurance Institute for Highway Safety, implementation of these and similar safety systems could eliminate or reduce the severity of over 100,000 accidents each year, including 30% of all large truck crashes. And yet, only about 15% of large commercial trucks have any sort of collision avoidance system installed.
Manufacturers also considering self-driving trucks
Safety experts have further pointed out that installing self-driving systems could also make large trucks safer on the road. Some auto manufacturers, such as Tesla, Volvo and Daimler, have already begun developing self-driving systems for tractor-trailers. In fact, the trucking division of Uber, known as Otto, conducted a 120-mile test drive of a large commercial truck in Colorado last summer. With clear evidence of the safety benefits of these systems, truck carriers may become obligated to take these measures to ensure that semi-trucks are as safe as possible when sharing the road with other, more vulnerable vehicles.
If you've been injured in a large truck accident in New York, get help from dedicated, seasoned personal injury attorneys by contacting the Hudson Valley offices of the Law Office of Taran M. Provost, PLLC at 845-675-3243, with offices in Poughkeepsie and Mahopac.