Common Myths about Bankruptcy, Debunked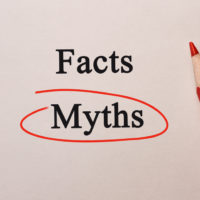 Bankruptcy is a subject of some confusion to many Americans. Some see it as a magical cure-all that makes debts disappear with ease, while others see it as a way to permanently destroy your credit score. The truth about bankruptcy is that it can be a lifesaver for people with certain types of consumer debts. Read on to learn about common misapprehensions about bankruptcy, and speak with a Goshen bankruptcy attorney if you have additional questions about filing for bankruptcy in New York.
Myth: You're always better off paying down your debts than filing for bankruptcy.

You may have heard that paying off your debt slowly over time will always be better for your creditworthiness in the long run than filing for bankruptcy. However, this simply isn't always the case. If you've accrued a large amount of debt due to a medical emergency or a period of unemployment that far exceeds your ability to keep up with the payments, then you will continue to accrue late fees, further increasing the amount of the debt. If you don't anticipate that your income will change for the better any time soon, then your credit score will sink further and further. By filing for bankruptcy, you'll be taking a step in the direction of becoming free from those debts, rather than falling even deeper in debt.

Myth: All your debts will be eliminated by bankruptcy.

Chapter 7 bankruptcy filings can eliminate most unsecured consumer debts, such as credit cards and medical bills. But there are certain types of debt, known as priority debts, which cannot be eliminated through the bankruptcy process. These include student loans, spousal and child support payments, and taxes. However, in some cases even student loan payments or tax debts may be forgiven. A bankruptcy attorney can help you determine if you're a candidate for these programs.

Myth: The bankruptcy court will sell off your most valuable property.

The bankruptcy trustee assigned to your case has the right to sell property you own as compensation to your creditors. However, any property protected by one of the bankruptcy exemptions provided by law cannot be seized by the court. Most Chapter 7 bankruptcy filings are no-asset cases, which means that the court does not seize any of the petitioner's property during the case. It is rare that a petitioner will lose any property that matters to them during a bankruptcy case.
If you're struggling to get out of a large amount of consumer debt and need help getting back on your feet, contact the seasoned, knowledgeable, and compassionate Hudson Valley bankruptcy attorneys at the Law Office of Taran M. Provost, PLLC in Mahopac at 646-942-7827.