What If I am Involved in an Accident With a Bus?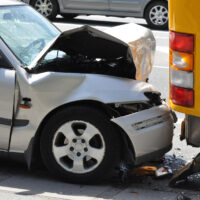 We rely on commuter buses, city buses, school buses, and charter buses every day to ferry ourselves to work, our children to school, and commuters to wherever they need to go.  Buses, like other vehicles, are occasionally involved in serious traffic accidents.  Bus drivers are human, and buses are fallible vehicles.  Unfortunately, accidents involving buses can end up much more severe, given the sheer size and weight of buses as compared to passenger cars.  Bus crashes also raise additional, complicated questions of liability, as multiple parties, including the bus driver, private transit companies, and municipalities, may be involved in the operation of the bus.  Read on for a discussion of bus accidents, and contact a dedicated Poughkeepsie bus accident attorney at the Law Office of Taran M. Provost, PLLC if you've been hurt in a bus crash in New York's Hudson Valley.
What causes bus accidents?
Bus operators, like any other drivers, must take care while on the road.  Buses are responsible not only for their haul of passengers but also for obeying strict traffic laws and other safety regulations.  Bus accidents can be caused by reckless or impaired driving, failure to follow traffic safety laws, distracted driving, unsafe or defective equipment, improper maintenance, or any number of other factors.
You can be involved in a bus accident in a variety of ways.  Bus passengers can be injured when riding a bus that becomes involved in a crash.  Bus operators have a responsibility to protect their passengers, and if the driver or the company operating the bus failed to follow proper safety procedures, then you may be entitled to compensation.  Likewise, motorists and pedestrians outside of the bus may be entitled to compensation if a negligent bus driver or transit company causes an accident. 
Who is liable after a bus accident?
Bus accidents can be more complicated than typical traffic accidents because liability may be unclear or may involve a city, county, or state entity.  As we have discussed before, New York is a no-fault state.  That means that in any traffic accident in which you were driving, your first coverage will come from your own no-fault car insurance.  To sue the other party for additional damages, the accident must have caused you a "serious injury," such as broken bones, disability, disfigurement, or worse.  Assuming you reach the threshold of "serious injury," you then need to determine who you can sue.  The same applies if you were injured as a passenger or pedestrian.  In New York, you have 30 days after an accident to bring a no-fault claim.
Whom you sue will depend on the type of bus and, in turn, who owns and operates the bus.  If the bus is owned by a private company, such as Amtrak or another private bus chartering company, then you will file claims against that company.  If the bus belongs to the city or county (for example, the Dutchess County Public Transit), then you may have a claim against the municipality.  You may also have a claim against the bus manufacturer or other motorists, depending on the nature and causes of the crash.  Your bus accident attorney will help you determine who is liable for your injuries. 
There are special rules that you must follow when filing claims against the city, county, or state.  It is vital that you retain an experienced traffic accident lawyer to ensure that you bring claims against the appropriate party and that you follow all the correct legal procedures in doing so.  Failing to give proper notice to the city, for example, can completely derail your claim and leave you fielding your own medical bills.  Ask a seasoned bus accident attorney for help to ensure that you get the compensation you are owed.       
Experienced Personal Injury Lawyers can Help after a New York Bus Accident
If you or a loved one has been injured or killed in a bus accident in New York, seek experienced legal help to evaluate your potential claims by contacting the dedicated and passionate Poughkeepsie personal injury lawyers at the Law Office of Taran M. Provost, PLLC for a free consultation at 845-675-3243.