How to Determine Who is at Fault in a Car Accident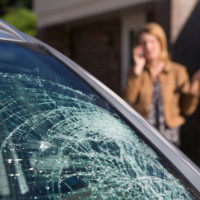 After a New York car accident, one of the most important things to determine is who is at fault for the accident. If the accident led to a serious injury such as broken bones, dismemberment or death, the driver who caused the accident will be responsible for paying the damages of the other drivers. If there was no serious injury, then New York's "no-fault" car insurance system applies. When does no-fault apply? And if no-fault does not apply, how is fault determined in New York courts? Learn below how fault is dealt with after a New York auto accident, and contact a dedicated Poughkeepsie auto accident attorney at the Law Office of Taran M. Provost, PLLC if you've been hurt in a crash in New York's Hudson Valley.
No-Fault Insurance in New York
Unlike most states, New York has a "no-fault" system for the typical car accident: Each driver is required to carry a minimum amount of no-fault insurance coverage, and their own insurance will pay for their damages after an accident regardless of who was at fault. No-fault insurance covers only economic damages like medical expenses, lost wages, and property damage, and it only covers an amount up to the policy limit. Non-economic damages such as emotional distress or pain and suffering are not covered.
To get out of the no-fault system, the plaintiff must prove that the accident caused a "serious injury" such as fractured bones, dismemberment, disfigurement, significant disability, or death. If the plaintiff can demonstrate such an injury, then they can sue the other driver directly, including for non-economic damages such as pain and suffering.
New York's Comparative Fault Rule
Assuming that there was a serious injury and no-fault insurance does not apply, New York has what is known as a "comparative fault" rule in personal injury matters. Rather than try to determine one single person who is wholly responsible the accident, the court will consider the relative fault of each person involved in an accident. The court will divide up the total 100% of fault available among the people involved. One driver can be entirely at fault, or the fault can be split among multiple people. The plaintiff's available damages will be diminished by the percentage of fault that is attributed to them.
For example, if one person makes a sharp left turn across several lanes without signaling and causes a crash, clearly that person is somewhat at fault. But what if the person who they crashed into was also texting just before the crash? The judge or jury may determine that the turning driver was 60% at fault for the accident, but the texting driver was also 40% responsible because they were distracted. Assuming the texting driver brought the lawsuit and suffered a total of $100,000 in damages (medical expenses, property damage, etc.), they will only be able to recover 60%, or $60,000, from the other driver.
In evaluating fault, the factfinder will consider the circumstances of the crash and each person's actions leading up to the crash: the speed of each car, whether each person was following applicable traffic rules, whether the plaintiff saw the other car prior to the collision, whether cell phone use was involved, or whether there is reason to believe any party was otherwise distracted. Courts will also look at environmental factors such as weather, road conditions, and time of day or night.
Experienced Injury Lawyers can Help after a New York Automobile Accident
If you or a loved one has been injured or killed in a car or truck accident in New York, seek experienced legal help to evaluate your potential claims by contacting the dedicated and passionate Poughkeepsie personal injury lawyers at the Law Office of Taran M. Provost, PLLC for a free consultation at 845-675-3243.