Worker Injured on New York Waterway Fights to Keep Case Alive in New York Courts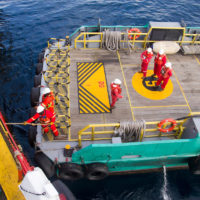 In 2015, a crew member was injured while working on a tank barge in the Phillips Bayway. Because he was performing duties as a seaman on navigable waters at the time of the accident, his injury gave rise to a claim under the federal Jones Act. This lawsuit is ongoing and has moved back and forth between the Supreme Court of Ulster County and the United States District Court for the Northern District of New York. Read on to learn more about the case, including what it takes to make a claim under the Jones Act and why plaintiffs prefer to keep their cases in state court while defendants try to remove cases to federal court.
Maritime Injury Gives Rise to Jones Act Claim
In the case of Whittaker v. Vane Line Bunkering Inc., the plaintiff was a crew member on a tank barge who was injured on navigable waters in the Phillips Bayway. Alleging that his injuries were caused by the negligence of his employer, he sued his employer, Vane Line Bunkering, as well as a towing company and the two vessels involved in the accident. His lawsuit was filed under many grounds, including the Jones Act, the Longshore and Harbor Workers' Compensation Act, and negligence claims under New York Labor Law section 200 as well as common law negligence.
The Jones Act, also known as the Merchant Marine Act of 1920, is a federal law that allows injured workers to recover compensation for maritime injuries caused by the negligence of the captain, crew or owner of the vessel. The Jones Act applies to sailors, seaman, and longshoremen who spend at least 30% of their employment in the service of a vessel on navigable waters. "Vessel" is broadly defined under the law, covering everything from tugs and ferries to fishing vessels, tour boats, cruise ships, and barges like the one in this case.
Plaintiff Keeps Case Alive in New York State Court
Less than a month after filing his case in New York Supreme Court, Ulster County, the defendants removed the case to federal court. The plaintiff had to amend his pleadings to get rid of the grounds for federal jurisdiction and get back into state court. Since he had already filed his complaint and the defendants had already answered it, the plaintiff needed permission from the federal court to amend his complaint. Luckily for this plaintiff, the court granted its permission, seeing that the plaintiff was not causing undue delay or intentionally trying to delay the proceedings with his procedural moves.
It is common for defendants to remove cases to federal courts when they can. It is believed that federal juries give smaller awards to plaintiffs than local, county juries, that it is harder to get evidence and keep a case alive in federal courts, and that federal litigation takes longer than it does in state court. Longer litigation can favor corporate defendants who have more money to spend on legal costs than the average individual plaintiff, but getting a personal injury attorney who will advance the costs of litigation can help level the playing field somewhat.
Contact a Skilled Attorney Who Understands Maritime Laws and New York Legal Procedures
There are many different legal theories and laws that may apply to maritime workers injured on the job, so it is important to retain the services of a skilled, knowledgeable and experienced personal injury lawyer who will research the applicable facts and laws and file the appropriate claims in the appropriate court. For help with a maritime accident case in New York, contact Hudson Valley personal injury attorneys the Law Office of Taran M. Provost, PLLC for a free consultation in Poughkeepsie at 845-675-3243.