Winter Weather Blamed for 23-Car Pile-Up on Orange County Highway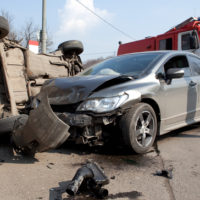 A massive pile-up on I-84 westbound in Greenville earlier this month has been blamed on thick fog and black ice. Thankfully, there do not appear to have been any serious injuries, which is especially surprising given the number of commercial tractor-trailers involved in the crashes. Bad weather may make driving more hazardous, but it is still every driver's duty to drive with care according to the given road conditions. Driving too fast or making sudden maneuvers on icy roads is simply a recipe for disaster. Such driving is likely to be considered negligent, and the drivers causing such accidents may be liable for the damages caused.
The accidents in this instance occurred around 7:00 in the morning on March 4th and involved 23 vehicles in all, including 10 commercial trucks and 13 passenger vehicles. A New York Department of Transportation snow plow was involved in one of the accidents and wound up in  a ditch after hitting more than one vehicle. Ten people were taken to area hospitals and treated for minor injuries. The highway's westbound lanes were shut down for hours, and even after they reopened, traffic remained slowed to a crawl for several hours, on into the late afternoon. The crashes took place in a work zone with a reduced 55 miles per hour speed limit, although there was no active construction work going on at the time of the collisions.
The 23 vehicles were involved in five separate accidents which all stemmed from the initial accident in a chain reaction of crashes. By one account, a commercial vehicle in the right lane applied its brakes on black ice and slid into the right guard rail, sparking the chain reaction of crashes. However, according to New York State Police, the chain began when one woman in a passenger vehicle spun out on the road, and several vehicles that engaged in emergency maneuvers to avoid hitting the stopped vehicle then sparked the chain reaction of crashes.
Do Your Part to Drive Safely in Bad Weather
This series of crashes serves as a reminder about how important it is when driving in bad road conditions to leave extra space between your vehicle and the cars in front of you, and to drive with extra caution and awareness of your surroundings. However, not everyone drives with equal care, and your own caution may not be enough to save you from another's negligence or reckless driving. If you are injured in a car accident, another driver is likely at fault, and you should discuss your case with an experienced New York car accident attorney, because you may be entitled to compensation for your medical expenses and other legal damages. In Orange, Dutchess and Ulster counties, contact the Law Office of Taran M. Provost, PLLC for a free consultation and case review.