Why Do I Need Expert Witnesses at My Car Accident Trial?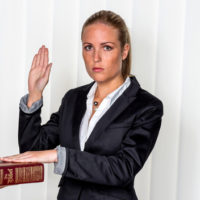 If you were involved in a serious car accident, you may not have much memory of what happened during the crash itself, but you do know that you're saddled with high medical expenses and the prospect of more to come. While some accidents and injuries are clear-cut cases involving little doubt about what happened and who is responsible, some cases require greater support in the form of expert witness testimony to show a judge or jury why you're entitled to damages. Expert witnesses rely on their body of technical knowledge in such topics as medicine or economics to explain how your injuries were caused by a crash, or what sorts of expenses you and your family will incur as a result of injuries you received in an accident.
The following are several types of expert witnesses that could be useful in supporting a claim for personal injury damages from a car accident:
Economist
After a crash, you may experience such serious injuries that you're required to change your responsibilities at work, or switch from full- to part-time employment. Additionally, if your injuries require long-term care, you may have lifelong medical costs that your family will shoulder. An economist can estimate your lost earning potential and inflation-adjusted medical expenses and present those costs to the court, to support your request for damages.
Medical Expert
A medical expert can use your medical records to show the injuries you received in an accident, as well as an expert opinion on how painful those injuries were for you, your prognosis for recovery, and an estimate of how much more care and rehabilitation you will require to recover fully.
Engineering expert
If your accident was the result of poor signage or a dangerously-designed intersection, an expert engineer can be invaluable to your case. Their knowledge of industry standards and best practices can serve to support an opinion that those responsible for the design of an intersection or stretch of road failed to exercise necessary care in making it safe, explaining why it resulted in your accident.
Accident reconstruction expert
When parties disagree as to why an accident happened, an accident reconstruction expert can use photographs from the scene of an accident, physical evidence, and eyewitness testimony to recreate where the cars were positioned prior to the crash, how fast each car was traveling, and what each driver was likely to have been doing before an accident, in order to demonstrate for a jury why the other driver was responsible for the accident.
If you've been injured in a truck or car accident in the Hudson Valley, contact the knowledgeable and dedicated personal injury lawyers at the Law Office of Taran M. Provost, PLLC for a consultation on your claims at 845-675-3243, with offices conveniently located in Poughkeepsie and Mahopac.