Whiplash: a Serious Concern After a Car Accident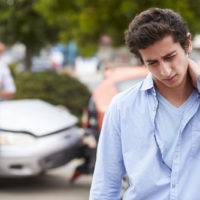 If you've been in a car accident recently, you may be experiencing a case of whiplash. This condition can have uncomfortable, and even long-term, consequences. Take steps to understand and treat this condition, and find a capable attorney who will ensure that the driver causing your injury pays the damages you're owed for this condition.
Whiplash defined
Whiplash, sometimes known as neck sprain, is a condition that results, essentially, from your neck cracking like a whip. While most people will incur whiplash injuries from a car accident in which they're rear-ended, whiplash injuries can also result from being punched in the head, or from taking a hard hit while playing a sport. This rapid back and forth movement of the head and neck can injure nerves, muscles, and ligaments in the neck, and can even cause bones in the neck and spine to become chipped, or damage spinal discs.
How do I know I have it?
After you've been in a wreck, it is always a good idea to seek medical attention, whether or not you are sure that there's something wrong. Some people don't start experiencing the symptoms of whiplash until one or more days after the accident, but the sooner you can start to treat the condition, the better. Symptoms include stiffness and soreness in the neck, difficulty moving your head around or pain when you try to do so, dizziness, headaches, tenderness in your neck and shoulders, and tingling or numbness in your arms.
What can a doctor do for me?
A doctor can conclusively diagnose your condition by inspecting the range of motion in your neck, which will be necessary if you wish to recover compensation for your expenses and pain and suffering from your accident. The doctor will also have a chance to determine if you may have also experienced a concussion in the crash, or additional sprains or breaks. If necessary, the doctor can prescribe pain medications and muscle relaxants, though whiplash is often treated with over-the-counter painkillers such as ibuprofen and aspirin. The doctor may also recommend that you rest and use ice and/or heat treatments, as well as engage in rehabilitation exercises. While doctors once prescribed a stabilizing neck brace to treat cases of whiplash, medical professionals now understand that the neck will heal faster if it is allowed to move more naturally.
What are some more serious possible consequences of whiplash?
Some more serious symptoms of whiplash include trouble concentrating, insomnia, memory problems, blurred vision, and depression. While most people with whiplash recover in one to three months, there are occasional cases of whiplash pain lasting for years.
If you have been injured in a Hudson Valley car accident and want to be compensated for your costs, pain and suffering resulting from the crash, contact experienced Poughkeepsie car accident and personal injury attorneys at the Law Office of Taran M. Provost, PLLC, at 845-675-3243.