What to Do When Being Sued for Credit Card Debt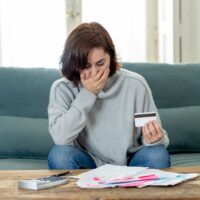 Receiving notice of a credit card debt lawsuit can be extremely jarring and add insult to injury when you are already struggling with debt issues. Below, we address some of the first steps you should take if you are the target of a debt collection lawsuit. If you are being sued for credit card debt, or if you are facing other aggressive debt collection efforts, talk to a dedicated Poughkeepsie debt relief and bankruptcy lawyer for advice and assistance.
Gather Information and Verify the Debt
Your first step when you are sued for credit card debt should be to verify that the debt is actually yours. The Fair Debt Collection Practices Act (FDCPA) requires debt collectors to provide a debt validation letter that provides specific details about the debt, including both the amount of debt owed and the creditor currently in possession of your debt. The letter must be sent within five days of the first contact regarding your debt. The letter will also include information on how to get more details about the debt, the creditor, and how to dispute the debt.
Believe it or not, debt collectors make mistakes. They may have identified the wrong person, they may have the wrong amount, or they may have overlooked payments you've already made. You have the right to send a debt verification letter back to get additional details, such as why the collector thinks you owe the debt, the amount and age of the debt, and the collection agent's authority to collect on the debt. Compare the details they provide in their letter with your own records.
Sending a debt verification letter may or may not be in your best interests; if the debt is nearing the statute of limitations (the time limit for collection), you might not want to draw attention to yourself by sending a verification letter. The debt may already be past the statute of limitations, meaning you can get the case dismissed.
Respond to the Lawsuit
When you are sued, you will be sent a court summons notifying you of the case along with a copy of the complaint, which will include details about who is suing you and why. The worst thing you can do is simply ignore it. The creditor might be able to go to court without you and obtain a default judgment, which is basically an automatic victory and allows them to do things like garnishee your wages.
Make a plan of action for responding. Typically, you'll have 20 to 30 days to respond to the summons. You can file an "answer," in which you will raise your defenses to the collector's claims. You may be able to argue that you do not owe the debt, that the debt is time-barred by the statute of limitations, or that the debt collector violated the FDCPA with its collection practices (harassing phone calls, extra-judicial taking of your property, lies about the amount owed, threats of violence, etc.).
Get a Credit Card Debt Lawyer
If you are being harassed by a debt collector, it's time to get a lawyer on your side and learn about your rights. If you receive a summons for a credit card lawsuit, it's absolutely time to get a debt relief attorney in your corner. Your attorney can review the claims, verify your debt, identify your defenses, and represent you throughout the process.
There will likely be a hearing on your debt. Your attorney can represent you at the hearing. At your hearing, you and your attorney will be able to present your defenses. If you believe you do owe the debt, you and your lawyer might be able to settle the case ahead of the hearing by agreeing to a payment plan or settle the debt for less than you owe. If you believe you do not owe the debt, your lawyer will help you prepare the strongest case against the erroneous debt collector.
Can I Go to Jail for Credit Card Debt?
Occasionally, clients ask if they can be arrested for failing to pay overdue credit card bills. The answer is an emphatic "no." You cannot go to jail for credit card debt, no matter what a creditor or professional debt collector says. As a matter of fact, if a debt collector tells you or implies that you might go to jail for missed payments, they are breaking the law according to the FDCPA. Tell your attorney about these statements or any other harassing conduct. You might have your own claim for money damages against the debt collector.
If you are struggling with debt in New York, contact the savvy and thorough Hudson Valley bankruptcy lawyers at the Law Office of Taran M. Provost, PLLC for a free consultation on your case at 845-675-3243.