Understand the Risks When Children Wear Jackets in Car Seats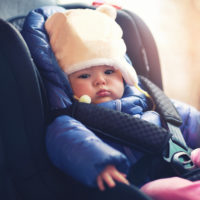 Making sure your child is safely buckled into their car seat is probably a major priority for you when you're traveling with your child. However, during the winter, it can be difficult to tell whether or not the restraints on your child's car seat are sufficiently tight, due to your children's bulky cold weather clothing. Make sure you know what can happen when children are not properly restrained, and take steps to avoid any possible injuries for your children in the event of an accident.
One of the most common mistakes that parents make when using car seats for their small children is failing to ensure that the car seat's shoulder straps are sufficiently snug. When your child is in a winter jacket, this can become even more of a problem. Many coats will be compressed by the child's safety restraints by as much as three to four inches in the event of an accident. This slack in the restraints can cause the child to slip free of the restraints upon impact. One study conducted by the University of Michigan's Transportation Research Institute examined this phenomenon more closely. In a simulated crash using a toddler-sized dummy in a bulky parka, the researchers noted that, in a crash occurring at 30 mph, the toddler slipped through the seat's shoulder restraints, flopping over in a way that could cause serious injury to a real child.86
In order to determine if your child's coat is sufficiently bulky for this to occur in their seat, put the child in their coat and buckle them into their car seat as you normally would. Then, remove the coat and place them in an outfit involving more tightly-fitting clothing. If the shoulder straps are slack enough for you to pinch them, then the straps are much too loose. When the straps are tightened appropriately, you should only be able to fit two fingers underneath the shoulder straps at the child's collar bone. Instead of having them wear a coat, you may want to keep your child warm in the car by placing a blanket over them while they're in their car seat, or having them wear a number of dense layers, rather than one thick coat.
If you or someone you love has been hurt in a New York car accident, ensure you receive the compensation you're owed for your injuries by contacting the knowledgeable Hudson Valley personal injury attorneys at the Law Office of Taran M. Provost, PLLC for a consultation on your claims, at 845-675-3243.