Ulster County Truck and Van Crash Kills Three, Injures Others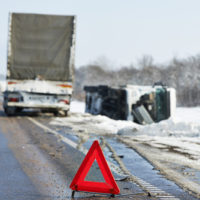 Members of a Brooklyn church who had been attending a religious retreat at Honors Haven Resort in the Ulster County town of Wawarsing, about 16 miles north of Pine Bush, were killed earlier this month when the van they were traveling in collided with a semi-truck as the van was attempting to merge onto Route 209. The crash took the lives of three of the seven church members and injured the others. The driver of the van, who was also one of the church members serving as volunteer driver, was airlifted to Westchester Medical Center in critical condition along with another passenger, while the remaining two passengers were treated and released at Ellenville Hospital with minor injuries, along with the driver of the semi.
Details regarding the cause of the fatal crash have not yet been released, but there could be a number of factors involved, including negligence on the part of the truck driver or inexperience on the part of the van driver. Since the driver of the van was a volunteer member of the church and not a professional driver hired by the church, this individual may be unfamiliar with the handling and limitations of a large passenger van. Since this accident occurred as the van was attempting to merge onto a highway, the driver could have underestimated how long it would take the van to accelerate up to highway speed. The driver may also have underestimated the ability of the 18-wheeler to slow or stop, or the trucker may not have given the van enough room to merge into traffic.
At this time, no criminal charges have been filed against anyone involved in the accident; regardless, there is still the potential for multiple personal injury and wrongful death lawsuits to emerge from this tragedy. Traffic accidents generally do not occur without negligence on the part of at least one of the drivers, which may have included speeding, recklessness, distracted driving, or simply failing to drive with the proper standard of care. If you have been injured in a motor vehicle accident and believe one of the drivers is responsible for your injuries, contact the Law Office of Taran M. Provost, PLLC for a free consultation from experienced Hudson Valley injury attorneys. With offices in Poughkeepsie and Mahopac, we represent clients throughout Orange, Dutchess and Ulster counties.