Study Reveals Effectiveness of Swerve-Deterring Safety Feature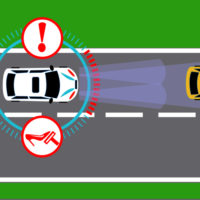 In the past several years, there has been a flood of new safety technologies available as either optional or standard safety features on new vehicles. When choosing a new car and deciding whether to purchase add-on features, you want to know whether a safety option is effective in keeping drivers safe. The Insurance Institute for Highway Safety (IIHS) is currently conducting a series of studies on the value of several new vehicle technologies. In their most recent report, the IIHS writes that lane-departure warning systems are proven to prevent car accidents caused by cars departing their lane of traffic.
Lane-departure warning systems are a relatively new feature and rarely come standard on new vehicles. The features work by using sensors installed on the vehicle's chassis that tell a driver, either with an alarm or vibration, that they have swerved out of their lane of traffic. Many drivers find the feature irritating, as the alarm can go off even when the driver is intentionally leaving their lane. Lane-departure warnings can be disabled by the driver.
The IIHS study compared the rate of lane-departure-related crashes (such as head-on, sideswipe, or single-vehicle crashes) of cars that did and did not come equipped with the feature. After controlling for the driver's age, location, and other demographic information, researchers determined that cars with lane-departure warning systems were involved in 11% fewer lane-departure-related crashes of any kind, and 21% fewer crashes that resulted in an injury. According to the researchers, this result indicates that, if all cars on the road had this feature, there would have been nearly 85,000 fewer police-reported crashes and over 55,000 fewer injury accidents in 2015 alone.
These numbers may not even tell the whole story of how effective this feature could be. The IIHS study examined crash rates by comparing vehicle identification numbers of cars known to have lane-departure warning systems installed with those that lacked the feature. The report authors note that, since the feature can be disabled, it is impossible to know whether the cars whose crash rates were compared had the feature activated or deactivated.
If you or a loved one has been injured in a crash in New York, find out if you have a right to money damages after your accident by contacting the knowledgeable and dedicated personal injury lawyers at the Law Office of Taran M. Provost, PLLC for a consultation, in Mahopac at 646-942-7827.