Six Injured in Eight Vehicle Crash Involving Oil Tanker on Long Island Expressway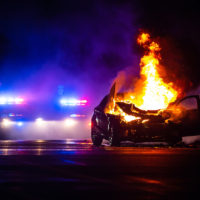 A massive multi-vehicle traffic accident on the Long Island Expressway in Melville left six people injured and one with a drunk driving arrest. Suffolk County police responded to reports of the crash around 10:30 p.m., later connecting the accident to traffic congestion caused by a car fire. Continue reading for details about the DWI accident on the LIE, and contact an experienced New York car accident lawyer for help if you have been injured in a vehicle crash on Long Island.
Car fire leads to eight-vehicle crash
Around 10:30 p.m. on a recent Friday, Suffolk County police responded to reports of an accident on the eastbound LIE near exit 49N in Melville. Traffic had slowed after a car caught fire earlier in the evening near exit 49. Two cars collided, starting a chain reaction that eventually involved eight vehicles, including a box truck, several sedans, and a large oil tanker truck.
One of the vehicles was a minivan driven by a 45-year-old East Meadow woman. She lost control of her minivan and skidded to a stop under the oil tanker and became stuck. She was eventually able to exit the vehicle and was then taken to Huntington Hospital for treatment of minor injuries.
Police ultimately arrested and charged the East Meadow woman with Driving While Intoxicated. She was held overnight at the Fourth Precinct awaiting arraignment at the First District Court in Central Islip the following morning. Reports did not indicate whether the woman was the cause of the accident, but her intoxication puts her at higher risk of being held liable for any additional damage caused once she became involved with the wreck.
Another car fire kills 28 year old man the following week in Melville
The chain-reaction crash was not the only car fire in recent weeks. On Thursday, November first, a 28-year-old man was heading south in a 2000 Subaru legacy on Walt Whitman Road when he struck a 2016 Mercedes-Benz Sprinter van. The collision resulted in a car fire that shut down traffic on the section of Walt Whitman Road between Expressway Drive North and Expressway Drive South from the time of the accident, around 5:15 a.m., until around noon. The Subaru driver was pronounced dead at the scene. The 38-year-old driver of the van and his three passengers were taken to nearby Plainview Hospital for treatment of minor injuries.
If you or a loved one has been injured in a serious car accident in New York, call the compassionate and effective Long Island personal injury lawyers at the Law Office of Taran M. Provost, PLLC for a free consultation at 646-942-7827, also serving the Hudson Valley with offices in Poughkeepsie and Mahopac.