What is the Serious Injury Threshold in New York?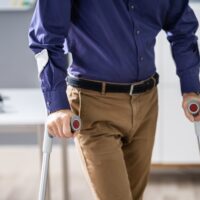 New York is one of a few states that employs a "no-fault" insurance system for traffic accidents. In most states, the driver who caused a crash will be responsible for paying for the damages. In New York, drivers in an accident will generally file a claim with their own insurance provider, regardless of who was at fault. Certain exceptions allow a driver to file a claim against the other driver and seek additional damages beyond those covered by insurance. Learn below about the "serious injury" threshold for car crash injury claims and reach out to a dedicated New York auto accident attorney with any questions.
New York's No-Fault System
Under New York's no-fault insurance system, after a typical car crash, drivers, passengers, and pedestrians will file claims with their insurance policies. Your insurance will cover your medical bills, burial costs, lost income due to missed work, and other medically necessary expenses. You cannot, however, recover for non-economic damages such as pain and suffering, disfigurement, or emotional distress. Nor can you recover damages beyond your policy limit.
If you want to recover beyond your policy limit or for non-economic damages, you must bring a claim directly against the driver at fault for your injuries. To get out of the no-fault system and file a third-party insurance claim or sue the driver directly, you must first establish that you have suffered a "serious injury" as a result of the crash.
What Counts as a Serious Injury?
New York law establishes specific categories of injury that satisfy the threshold for bringing a claim outside of the no-fault system. Injuries that meet the serious injury threshold include:
● Broken bones
● Loss of limb
● Loss of a fetus
● Wrongful death
● Permanent scarring or other disfigurement
● Permanent loss of a bodily function or an organ
● Total disability for at least 90 days
If you have suffered a serious injury in a crash, you may be able to recover significantly more damages than you would under your no-fault insurance policy. A knowledgeable New York personal injury lawyer can evaluate your claims and determine whether you are eligible to file a claim with the other driver's insurance or against the other driver directly as a result of your Hudson Valley car crash.
Experienced Poughkeepsie Car Accident Lawyers Can Help You
If you or a loved one has been injured or killed in an accident in New York, get qualified legal help to evaluate your potential claims by contacting the dedicated and effective Hudson Valley personal injury lawyers at the Law Office of Taran M. Provost, PLLC for a free consultation at 845-675-3243.