Rising Number of Senior Citizens Declaring Bankruptcy, and That's OK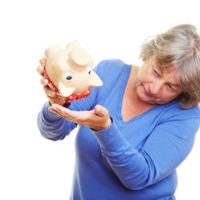 Due to a variety of factors including rising medical costs, limited social security, and outliving savings and retirement benefits, a rapidly growing number of older Americans are being forced into declaring bankruptcy. While it's no one's favorite option, filing for bankruptcy can be a helpful and appropriate tool for senior citizens struggling with medical expenses, overdue mortgages, and other consumer debt. Continue reading for more about this trend, and contact a New York bankruptcy attorney with any additional questions.
Bankruptcy rates have tripled among older citizens in the last 30 years
The rate of Americans aged 65 and older filing for bankruptcy has tripled since 1991, according to a recent study. Older citizens have increased as a percentage of overall filers in the same time period, from 2.1 percent to 12.2 percent, representing around 100,000 bankruptcies annually. Many factors help explain this increase. The social security net is shrinking, retirees have to wait longer to trigger full benefits, patients are paying more out-of-pocket for medical expenses, and employer-provided pensions are being replaced with 401(k) savings plans. As a result, citizens over 65 are forced to consider alternative options to deal with ever-increasing debt.
Bankruptcy is a useful tool, not a sign of failure
People tend to be embarrassed at the idea of declaring bankruptcy, viewing it as an admission of failure. Bankruptcy is, however, just another legal tool people can use to overcome debt struggles. Bankruptcy is extremely common for individual consumers as well as businesses. From 2005-2017, nearly 13 million consumers filed for bankruptcy, representing over 97% of all Chapter 7 and 13 bankruptcy filings for that time period (businesses clocked in at under 3%).
Generally speaking, bankruptcy is a way to have a court discharge some or all of a consumer's debt based on financial insolvency. Chapter 7 bankruptcies involve liquidating any of the debtor's non-exempt assets (although most assets are exempt) to pay off creditors, while Chapter 13 involves creating a repayment plan. Both forms of bankruptcy can lead to a fresh financial start for the debtor and have numerous benefits, including:
Avoiding home foreclosure or eviction
Eliminating tax debts
Eliminating credit card debts and other overdue consumer bills
Stopping or delaying creditors from collection efforts, garnishing wages, or repossessing property
Even though seniors are generally at the end of their careers, bankruptcy can provide necessary relief to facilitate a less stressful retirement. A qualified bankruptcy attorney helps indebted consumers decide whether bankruptcy is the right option and puts together a plan that works best for them.
Help for Seniors in Debt
If you or a loved one are a senior citizen facing mounting consumer debt and want professional help finding a path toward a brighter financial future, contact the skilled and compassionate Hudson Valley bankruptcy lawyers, the Law Office of Taran M. Provost, PLLC at 845-675-3243.