Rider Injured in Local Motorcycle Accident after Report Reveals Uptick in National Motorcycle Fatalities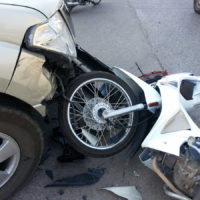 A recent motorcycle accident provides a local example of an upward trend in motorcycle accidents. According to a preliminary report from the Governors' Highway Safety Association (GHSA), fatalities among motorcycle riders increased sharply in 2015, the effects of which were felt in New York.
For last year, the GHSA estimates that over 5,000 motorcycle riders were killed in motor vehicle accidents in the US, making it only the third year on record when over 5,000 riders were killed. This is a 10% increase over the number of riders killed in 2014. Over the past ten years, motorcycle fatality rates have ranged between 4400 and 5300. Fatality rates have increased by 50% over the past two decades, while the average overall rate of fatalities on the road have gone down by 20%. In New York, the rate of motorcycle fatalities went up by 16% in 2015 as compared to 2014, with 156 motorcyclists losing their lives in New York traffic accidents last year.
There are several reasons why experts speculate that the rates of motorcycle rider fatalities went up last year. While passenger vehicle occupant fatalities generally go down each year, motorcycle rider accident rates tend to remain steady from year to year. New technologies to improve the safety of car occupants are added to new vehicle models each year, while there are few ways to increase safety among motorcycle riders. Another reason that fatalities have risen nationwide is a trend toward eliminating universal helmet laws, instead only requiring helmet wear for those under 21 or 18. Since helmets are found to reduce the chance of death in a motorcycle accident by 37%, failure to wear a Department of Transportation-compliant helmet involves taking on a great deal of risk. Further, passenger vehicle drivers often fail to fully scan the roadway for motorcycles in their blind spots or among oncoming traffic. Reduced fuel costs and dry, warm weather also contributed to the increase in crashes.
A recent accident occurring in Ulster highlights the ways that car and truck drivers often fail to drive safely around motorcycles. Two vehicles, a Jeep and a Harley, were traveling east on State Route 28 immediately before the collision, with the Jeep in the left lane and the Harley in the right. In order to get around a driver who was turning left from the left lane of traffic, the Jeep merged into the right lane, colliding with the Harley. The rider of the Harley was airlifted by helicopter to Albany Medical Center with pains to his chest, while the occupants of the Jeep did not report any injuries.
If you or someone you love experiences injuries resulting from a motorcycle accident in New York, seek the compensation to which you may be entitled for your injuries by contacting the knowledgeable and determined Hudson Valley motorcycle accident lawyers at the Law Office of Taran M. Provost, PLLC for a consultation on your case at 845-675-3243, with convenient office locations in Poughkeepsie and Mahopac.