The Importance of Surveys in Residential Real Estate Transactions in New York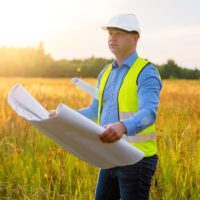 When it comes to buying a home in the Hudson Valley area, many prospective homeowners focus on the aesthetics, location, and price. While these factors are, of course, important, there is another aspect that home buyers often overlook, which is the property survey. A property survey is an essential tool in any Hudson Valley residential real estate transaction, providing a wealth of information that can protect both buyers and sellers.
From legal clarity to uncovering hidden issues, a property survey provides you with essential information that can prevent future disputes and financial losses. In New York State, where property transactions are subject to various regulations and requirements, having a detailed and accurate survey is a necessity.
What Is a Property Survey?
A property survey is a detailed map of a property outlining its boundaries and physical features and identifying any encroachments or easements. These surveys are conducted by licensed surveyors and provide a detailed visual representation of what you're buying. In New York State, property surveys are usually required by mortgage lenders and title insurance companies.
Surveys Provide Legal Clarity
One of the primary reasons for conducting a property survey is to establish legal boundaries. This clarity is crucial for resolving any disputes that may arise concerning property lines. In New York, where properties can be closely packed, especially in urban areas, knowing your exact property boundaries can save you from potential legal headaches down the line.
Surveys Uncover Hidden Issues
A property survey can reveal issues that aren't immediately visible, such as encroachments onto neighboring properties or vice versa. These could be anything from a neighbor's fence that's crossed onto the property you're considering buying to more severe issues like building structures that violate local zoning laws.
Surveys Identify Easements and Rights-of-Way
Surveys also identify any easements or rights-of-way that may exist on the property. These are legal allowances that give someone else the right to use a part of your property for a specific purpose, like utilities or public access. Knowing about these in advance can help you understand how they might impact your use of the property.
Surveys for Future Planning
If you're considering making any additions or improvements to the property, a survey will provide the necessary details to plan accurately. Whether it's installing a pool or adding a garage, knowing the exact dimensions and restrictions of your property is invaluable.
New York State Specifics
In New York State, the Department of Financial Services regulates the conduct of title insurance companies, which often require property surveys before issuing a policy. Additionally, local municipalities may have specific zoning laws and building codes that a survey can help clarify. Therefore, it's often mandatory to have a current survey when engaging in a residential real estate transaction in New York.
Contact the Law Office of Taran M. Provost, PLLC, for Real Estate Transactions in the Hudson Valley
Buying or selling property in New York—be it residential or commercial—demands the expertise of a qualified attorney. At the Law Office of Taran M. Provost, we are dedicated to meeting the real estate needs of our Hudson Valley clients. For personalized legal advice and representation, contact us at 845-675-3243 to discuss your specific challenges and formulate a strategy to achieve your objectives.