Potential New Law Would Offer Greater Protection from Tractor-Trailer Accidents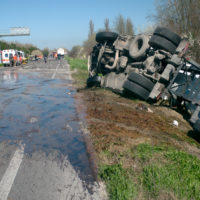 Tractor trailers and semi-trucks are dangerous, but necessary, fixtures of New York roads and highways. Accidents involving these massive vehicles are far more likely to be lethal to passenger vehicle occupants than the truck driver, and yet it doesn't always seem that trucking companies and large truck manufacturers are doing all they can to reduce the risk of fatal injury caused by large commercial truck accidents. A bill that is currently under consideration by the US Senate would mandate additional safety features for large trucks to protect passenger vehicles from catastrophic accidents. Learn more about this potential law below, and contact a seasoned Poughkeepsie truck accident lawyer if you've been hurt in a big rig accident.
Cars at risk of underride accidents in the Hudson Valley
The subject of the new law is the prevention of underride accidents when cars collide with large commercial trucks and big rigs. Underride accidents occur when a car or small passenger truck collides with either the rear, front, or side of a semi-truck and slides under the trailer. Often, these accidents result in serious damage to the passenger compartments of the smaller vehicles, either in the form of the roof being torn off or the passenger compartment being crushed entirely.
Existing laws not preventing crashes
There are already federal rules in place that make underride protections mandatory. However, many safety organizations have determined that current rules don't do enough to protect passenger vehicles. As of now, large trucks must use what's known as a rear guard to prevent underrides when a passenger car rear-ends a truck. Many safety advocates believe that these guards are not required to be strong enough to prevent all serious underride accidents.
In order to determine the effectiveness of current safety requirements, the Insurance Institute for Highway Safety (IIHS) took a closer look at the circumstances surrounding 115 collisions where a passenger vehicle rear-ended a large box truck or tractor-trailer. According to their findings, roughly half of all these collisions resulted in damage associated with underride crashes for the passenger vehicle. Out of the 115 accidents studied, 28 involved a fatality. Twenty-three of those 28 accidents involved either serious or catastrophic underride damage, leading the IIHS to believe that current underride protections are not sufficiently robust to prevent death or serious injury among passenger vehicle occupants.
The bill currently under consideration by federal lawmakers would require that large commercial trucks use more robust rear guards, rated to withstand a crash occurring at a higher speed. The bill calls for underride guards on a truck's front end and sides, as well. New York Sen. Kirsten Gillibrand, the bill's sponsor, described underride guards as "an easy solution for protecting people and preventing them from dying when a car collides with a truck."
If you've been hurt in a Hudson Valley truck accident and need help getting the damages you're owed from trucking or carrier companies, contact the dedicated and effective Poughkeepsie personal injury lawyers at the Law Office of Taran M. Provost, PLLC for a free consultation at 845-675-3243, with an additional office in Mahopac.