Pedestrian Killed while Walking on Soho Sidewalk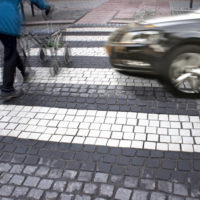 A random accident involving falling debris has taken the life of a Long Island resident and left another pedestrian severely injured. The accident is one example of the types of incidents that give rise to personal injury and wrongful death lawsuits. Read on to learn more about the circumstances surrounding the incident, and speak with a Hudson Valley personal injury lawyer if you or someone you love has been hurt in a serious accident.
Falling debris strikes pedestrians in New York City
The accident occurred on February 16, 2018 near a building at 434 Broadway, between Howard and Grand in Soho. During a routine inspection by a privately contracted building engineer, the inspecting engineer knocked down a loose tread off one of the steps on the building's fire escape. The metal stair tread fell to the street below, hitting two people walking on the sidewalk under the building: a 58-year-old Garden City man and an unidentified woman. Emergency personnel took both pedestrians to Bellevue Hospital. Unfortunately, the Garden City man died at the hospital. Police reported that the female pedestrian was in stable but serious condition after receiving medical treatment. The New York City Department of Buildings issued a violation to the owner of 434 Broadway for failing to safeguard the building.
Negligent maintenance of a building can give rise to personal injury claims in NYC
The recent accident is one example of how carelessness in regards to the maintenance of a building can result in serious accidents. Building owners and managers have a legal duty to keep their buildings in a reasonably safe condition, since residents and visitors to the building have a right to expect that the building is well-maintained. If property owners fail to conduct regular inspections of their building, which would allow them to discover dangerous conditions, then they can be held financially responsible for accidents that result from the building's poor condition. Normally, the victims of negligent building or fire escape maintenance are the individuals who live, work, or visit the building. However, passersby injured by falling debris may have a legal basis to file a claim against the building owners, as well, under the argument that the owners could have foreseen that pedestrians would also suffer harm if the building were allowed to decay to that extent.
If you've been injured in a Hudson Valley liability accident or other personal injury accident, find out if you're entitled to money damages for your claims by contacting the Melville personal injury attorneys at the Law Office of Taran M. Provost, PLLC for a consultation on your case at 646-942-7827.