New York Jury Awards $3.6 Million to Medical Malpractice Victim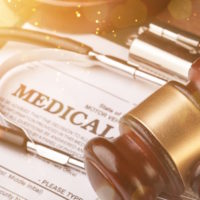 A man who suffered painful ongoing injuries from a medical procedure recently succeeded in a medical malpractice claim against the doctor who caused his injuries, with a jury finding in his favor and handing down an award of $3.6 million. Learn more below about the claim, and contact an experienced Poughkeepsie medical malpractice lawyer if you or a family member has been the victim of medical error.
Injury Went Beyond Acceptable Risk for Medical Procedure
The injury at the center of the case occurred in 2010. The plaintiff and malpractice victim, Kenneth Shook, had noticed that there was blood in his urine and had made an appointment with a Manhattan urologist, Dr. Marc Kaplan. Kaplan conducted a cystoscopy on Shook, which involves inserting a very thin tube equipped with a small camera into the patient's urethra to look for potential causes of the bleeding. During the procedure, Shook suffered a tear to the wall of his urethra.
In the months and years following the procedure, scar tissue developed at the site of the tear, resulting in strictures of his urethra. These strictures were painful, caused difficulty urinating, and resulted in additional health complications for Shook. He was forced to undergo one surgery in 2012 to address the problem and has another surgery scheduled that he hopes will offer a permanent fix.
Shook filed a claim for malpractice against Kaplan in 2012. Kaplan's attorneys and experts argued in his defense that the cystoscopy procedure comes with a certain amount of risk that the patient must accept when agreeing to the procedure, and that Shook's injury fell into that category of risk. Shook's lawyer succeeded in convincing the jury that the injury Kaplan caused went beyond the level of injury for which Shook had accepted a risk. Additionally, the attorney showed that Kaplan had failed to take basic steps after the tear occurred to prevent the injury from forming stricture-causing scar tissue.
The case went to trial in Brooklyn in early 2019 and lasted for four weeks. The six-person jury handed down their $3.6 million verdict on February 22, 2019. That said, the plaintiff and defendant reached a private settlement agreement after the verdict was handed down, meaning that Shook will not receive the exact amount awarded by the jury.
Call the Law Office of Taran M. Provost, PLLC for Experienced Hudson Valley Medical Malpractice Lawyers
If you've been the victim of a medical mistake at the hands of a New York doctor, contact the dedicated, knowledgeable, and trial-ready Poughkeepsie medical malpractice lawyers at the Law Office of Taran M. Provost, PLLC for a free consultation on your case at 845-675-3243, with additional offices in Putnam County.