Governor Cuomo Signs New York Elevator Safety Law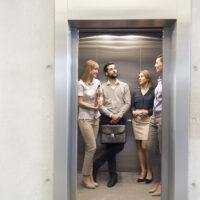 Few things are as viscerally terrifying as being in an elevator that starts to malfunction.  Even an unexpected stop, jerking motion, or light flicker can send many of us into a brief panic.  When you are in an elevator, you are trapped, relying on the engineering of the designer and the maintenance and repair standards kept by the building operator.  Many elevators in New York, however, are old, decrepit, and in a state of disrepair.  Elevator collapses are extremely dangerous and often fatal.  In order to alleviate public concern over the common presence of ancient elevators and to promote the public safety, Governor Cuomo recently signed into law a bill aimed at strengthening statewide safety standards for elevator installation, maintenance, and repair.  The law does not, unfortunately, go into effect just yet.  Continue reading for details about the new elevator safety law, and reach out to a seasoned Hudson Valley premises liability attorney for help after an accident caused by someone else's negligence.
New York improves elevator safety but delays implementation until 2022
Following a horrific incident in which an elevator crushed a man to death in Manhattan in August 2019, New York state officials moved swiftly to improve elevator safety.  The so-called "Elevator Safety Act" will require the state's Labor Department to license mechanics and others who oversee the maintenance of the 70,000 elevators in high rises and other city buildings.  The law also requires more extensive education and training for elevator mechanics.
Additionally, the new law creates a New York State Elevator Safety and Standards Advisory Board, with members to be appointed by the governor and legislative leaders.  The Board will be tasked with establishing recommendations for elevator inspections, setting examinations to satisfy licensing requirements, and conducting enforcement to ensure compliance and promote public safety.
The Elevator Safety Act will not go into effect immediately.  According to the New York Post, as the bill made its way through the legislature, lawmakers feared that Governor Cuomo would not sign.  As a compromise, they amended the bill to delay implementation from June 2020 until January 2022.  The same amendment, however, pushed up the time frame for the New York City government to comply with the new licensing requirements from three to two years.  Most of the City's elevators are in City buildings.
Help is Available After an Elevator Malfunction or other Premises Injury in the Hudson Valley
If you or a loved one has been injured as a result of someone else's negligence in New York, find out if you're entitled to money damages through a personal injury lawsuit by contacting the passionate and effective Hudson Valley personal injury lawyers at the Law Office of Taran M. Provost, PLLC, with offices in Mahopac and Poughkeepsie.