New York Residents' Snow Removal Obligations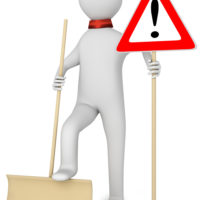 This winter has been particularly snowy for New York residents, with massive storms dumping upwards of ten inches at a time on towns across the Hudson Valley. Snow and ice hold the potential to wreak havoc on New York streets, but they can also pose a hazard on public sidewalks and walkways. In fact, New York residents often have a legal duty to remove snow and ice when it could pose a safety hazard, and property owners could face liability in court should they fail to carry out this obligation and someone is hurt. Read on to learn about snow removal obligations in New York, and contact a Poughkeepsie slip-and-fall lawyer if you're injured in a winter weather accident.
Town laws mandate timely snow removal
Most towns and cities in New York make property owners obligated to remove snow that has accumulated on the sidewalk in front of their home. Many towns impose strict time limits on when this snow must be removed after snowfall has stopped, or when ash, sand, or salt should be spread across ice that has formed. If the owner doesn't shovel the sidewalk in front of their property and the town is forced to remove the snowfall, towns often impose a fine or charge property owners for the cost of the snow removal.
For example, in Poughkeepsie, property owners must clear away snowfall within four hours after the snow has fallen if it occurs between 6:00 am and 6:00 pm. If snow falls between 6:00 pm and 6:00 am, owners have six hours from the end of that period to clear away the snow. If the snow isn't removed and the town must clear the snow, owners face a penalty of up to $250 and/or up to 15 days in jail, in addition to paying the cost of the snow removal.
Liability for failure to clear snow
Some towns make it explicitly clear in their municipal code that, if a pedestrian is injured when walking along a sidewalk where ice has been left undisturbed or where snow hasn't been removed, the owner who failed to comply with laws ordering them to remove snow will be held liable for the cost of the victim's injuries. Poughkeepsie is an example of such a town. The Poughkeepsie code also requires that a property owner who doesn't abide by the snow-clearing laws will be obligated to indemnify the town against any claims filed by victims against the town.
Even where a town's code doesn't explicitly state that the property owner is liable for harm for a slip-and-fall accident, victims may yet have a claim for damages against a property owner who knew or should have known that snow had accumulated on a public sidewalk adjacent to their home, but failed to clear the snow within a reasonable timeframe. Victims of slip-and-fall injuries can use evidence such as photos of an accident site and weather reports to prove how long snow had been left untouched by a property owner, and how much of it had accumulated, prior to their injury. A New York slip-and-fall lawyer can help you prove your case against a negligent property owner.
If you've been hurt in a slip-and-fall accident in New York, find out if you're entitled to money damages for your injuries by contacting the dedicated and effective Poughkeepsie personal injury lawyers at the Law Office of Taran M. Provost, PLLC for a consultation, at 845-675-3243, with additional offices in Poughkeepsie and Mahopac.
Poughkeepsie personal injury attorneys the Law Office of Taran M. Provost, PLLC explain New York snow removal obligations to avoid premises liability for icy slip & fall accidents.