Recent Hudson Valley Motorcycle Accident Highlights Need for Safety During Summertime Rides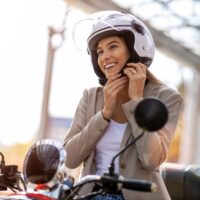 The weather is heating up here in New York's Hudson Valley, which makes it prime season for dusting off your motorcycle and hitting the road. Before you head out on two wheels, be sure to refresh yourself on best safety practices when riding your motorcycle. A recent fatal crash on one of Orange County's most beautiful roads to ride is a sad reminder of the risks that come with motorcycle riding. Learn about the recent crash, as well as some tips on safe summertime riding, below. Contact a seasoned Hudson Valley motorcycle accident lawyer as soon as possible after a crash.
Crash on famous scenic road results in fatal injuries
On May 22, a 32-year-old Bayshore, New York, resident was involved in a crash along State Route 97 just outside of Port Jervis, New York. The scenic highway, known as the Hawks Nest, runs above the Delaware River and offers stunning views. The road has become famous both as a beautiful and exciting location for scenic motorcycle rides, as well as a popular backdrop for car commercials.
The motorcycle rider, who rode a 2019 Ducati that Saturday afternoon, attempted to pass a 2014 Volkswagen Jetta by crossing over the double lines on the curvy highway. Upon exiting the right-hand lane, the rider saw that a car was oncoming in the opposite lane of traffic. He quickly attempted to re-enter the right lane but over-corrected his bike. The Ducati collided with the embankment, ricocheted off the wall, then struck the rear passenger side of the Volkswagen. At that point, the motorcycle caught fire. Sadly, while the Volkswagen driver pulled over and attempted to render aid, the motorcycle rider was declared dead at the scene of the crash.
Stay safe while enjoying summertime motorcycle riding in the Hudson Valley
Give your bike a once-over: If it has been several months since you rode your bike, make sure it's in good working order before hitting the road. See that the tires are in good shape and properly inflated. Check the brakes before you take any long rides. Also, check that all fluids are topped off and that the radiator is clean.
Make sure you have the right gear: If you'll be riding in hot weather, be sure that you are wearing gear that will protect you from the sun and is light enough to keep you from overheating, but don't forget the importance of wearing gear that will protect you from road rash should you need to lay down your bike. Knee pads, gloves, and elbow pads can also prevent you from suffering serious injuries. The reason many drivers cite for hitting motorcyclists is that they could not see the rider, so consider wearing high-visibility clothing. The most important piece of gear you can wear? A well-constructed helmet.
Check the weather before you ride: Summer thunderstorms are a common occurrence, and they can limit driver visibility as well as reduce traction for two-wheeled vehicles. Seriously consider postponing your ride until another day if rain is in the forecast.
Look out for hazards in the road: Winter weather may have done serious damage to the road. Potholes, loose gravel, and other roadway obstacles can cause motorcycles to skid and spin out of control. Other hazards in the road, such as fallen branches, litter from construction sites, or animals that have run into the road, can also cause drivers to swerve to avoid a collision and potentially lose control of their bikes. While close attention to the road is important for all drivers, it is critical that you keep your eyes on the road at all times while on a bike.
Consider taking a safety course: If you haven't ridden a bike in many months, consider enrolling in a motorcycle safety class. This will offer you a safe place to remember proper technique and have a chance to practice defensive driving before you're surrounded by potentially distracted other drivers.
If you've been hurt in a motorcycle accident in the Hudson Valley, get help seeking the damages you may be owed for your injuries by contacting the Poughkeepsie offices of motorcycle crash lawyers at the Law Office of Taran M. Provost, PLLC, serving Orange County, Dutchess County, Ulster County, and throughout the mid-Hudson Valley.