The Most Common Motorcycle Accident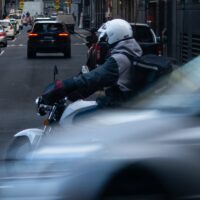 Accidents involving motorcycle and passenger car collisions can be catastrophic for the motorcycle rider. Many accidents occur because auto drivers are distracted and fail to properly assess their surroundings. Motorcycles are smaller vehicles, making them harder to see unless drivers are paying real attention to their surroundings. Continue reading for a discussion of the most common type of motorcycle crash and the steps riders can take to avoid such an accident. Call a dedicated Hudson Valley motorcycle accident lawyer after a New York traffic accident for advice and assistance
Left-Turning Car Accidents
The single most common type of motorcycle accident occurs when cars are making left-hand turns. Motorcycles colliding with left-turning cars represent over 40% of all motorcycle-car collisions. Most often, the turning car will strike the motorcycle while the motorcycle is doing one of the following:
Traveling straight through the intersection, from the vehicle's left
Attempting to pass the car
Attempting to overtake the car
Left-turn accidents are common between two passenger cars as well, but they are more common for motorcycles. Motorcycles are smaller and harder to detect, making it much more likely that a car driver will attempt a left turn without noticing the biker in their blind spot. Additionally, motorcycles often attempt to pass cars in the same lane, a maneuver that auto drivers are less accustomed to dealing with. Because drivers are not expecting it, they are more likely to collide with the biker. Drivers also have a harder time judging the speed and distance of an oncoming motorcycle, due to their smaller size and unfamiliarity with riding a motorcycle.
Car-motorcycle accidents are especially dangerous for motorcycle riders. While autos have tons of metal and seatbelts protecting drivers and passengers in the event of a crash, motorcycle riders are directly exposed to all hazards, including the impact from the car and subsequent impact from the street.
How to Avoid a Left Turn Car-Motorcycle Accident
Like most traffic accidents, left-turn car-motorcycle accidents are avoidable. If everyone is alert and operating their vehicles in a safe, aware manner, then these types of accidents should not occur. Unfortunately for motorcycle riders, because they are smaller and less visible, the onus for anticipating and preventing a crash often falls on them. A left-turn crash typically happens because the driver did not see the motorcyclist and failed to indicate their planned turn; in most cases, then, it is the auto driver's fault.
To lessen the likelihood of left-turn accidents, bikers and auto drivers can take several preventative measures. Auto drivers, of course, should always signal before they turn and make sure to look around for smaller vehicles like motorcycles. Bikers, in turn, should always try to anticipate when a driver may make a sudden lane change or turn. Motorcycle riders should look out for behavior indicating that a turn may be oncoming and adjust appropriately, including by:
Watching out for vehicles stopped at an intersection waiting to turn
Watching for turn-suggestive behavior such as a "look both ways" head turn or tires changing direction
Watching for gaps in the traffic ahead while someone is waiting to go
If you are in any of these situations, slow down and take stock of the situation. Be prepared for the car in front of you to make a turn and do not cross the intersection, pass, or overtake until you are sure that the driver has noticed you and is not about to make their turn. If you can, make eye contact with the driver, ensuring that they are aware of you and will not make any sudden movements. Look out for any other obstacles that may be blocking their view, and find a way to make sure you are noticed.
If you've been hurt in a motorcycle accident in the Hudson Valley, get help seeking the damages you may be owed for your injuries by contacting the Poughkeepsie offices of motorcycle crash lawyers at the Law Office of Taran M. Provost, PLLC, serving Orange County, Dutchess County, Ulster County, and throughout the mid-Hudson Valley.