Medical Mistakes and Substance Abuse in the Medical Profession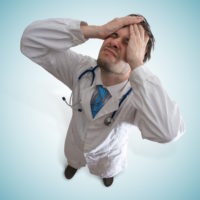 Being a doctor can be extremely stressful. Long hours, demanding patients, and the constant pressure of making life-altering decisions for other people can eventually wear on someone's emotional state. Medical professionals have easy, direct access to many prescription and other medicinal drugs. Combined with the stress, the available drugs can create a dangerous incentive for doctors to start self-medicating to a dangerous and reckless degree. Substance abuse among medical professionals is far more common than most people would like to believe, and mistakes caused by an intoxicated doctor can have permanent and devastating effects on innocent patients. Learn more below about the prevalence of substance abuse among medical professionals, and contact a seasoned medical malpractice attorney at the Law Office of Taran M. Provost, PLLC if negligent treatment by a doctor has hurt you or a loved one in New York.
Substance abuse among medical professionals is extremely common
In 2014, Time magazine reported that as many as 40% of doctors in the U.S. will experience "emotional, physical, and psychological burnout" during their careers. Like in any other profession, burnout leads to cutting corners and abusing substances. An investigative report conducted by USA Today found that more than 100,000 doctors, nurses, medical technicians and other health care providers are abusing or dependent on prescription drugs each year. Without prescriptions, doctors are self-medicating with drugs like fentanyl and oxycodone. The LA Times recently reported that as many as 15% of doctors have substance abuse problems.
Doctors must be held liable for errors made while intoxicated
Substance addiction is nothing to be laughed at, and it is understandable that the pressures of medicine can lead someone down that path. But that does not excuse the risk to patients that doctors create by abusing substances while on the job. Drug abuse among doctors can have catastrophic results. For example, a hospital technician was caught injecting himself with patients' pain medication and then refilling the syringes with saline. It turns out he had hepatitis. Nearly 8,000 people in eight states required testing after he was caught, and he infected at least 46 people. It was the third time since 2009 that a hepatitis outbreak was linked to a health care worker using patients' syringes. For each of these larger outbreaks, there are many more smaller errors committed by overtired and intoxicated medical professionals such as mis-prescribed drugs and overlooked disease symptoms.
We put faith in our medical professionals to operate with clear heads, and if their addiction leads to the injury or death of you or your loved ones, they should be held accountable. Whether a doctor botches a surgery due to a shaky hand, misses a diagnosis, mixes incompatible prescriptions for a patient by negligently overlooking patient history, over-prescribes the amount of a drug to a patient, or full-out steals patient medications, medical errors can have devastating effects. Doctors, hospitals, and other medical professionals must be held accountable and forced to compensate you if their negligent behavior has caused you serious harm.
Call the Law Office of Taran M. Provost, PLLC with Medical Negligence Questions in New York
If you or a loved one was recently harmed due to medical malpractice in the Hudson Valley, please call the experienced Poughkeepsie personal injury attorneys at the Law Office of Taran M. Provost, PLLC. We have over 40 years of combined legal experience and have what it takes to represent you aggressively in your medical malpractice lawsuit. Determining whether you have a medical malpractice case can be a complicated task that requires knowledge and experience. Please call us today at 845-675-3243 for a free consultation so that we can help you evaluate your case.