Learning More About the Means Test in NY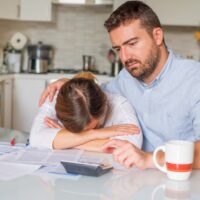 Bankruptcy is not a one-size-fits-all procedure. There are different types of bankruptcy available depending on the type of debtor filing, the type of debt involved, and the financial circumstances of the debtor. In order to file for Chapter 7 bankruptcy, which wipes away covered consumer debts completely, a debtor must satisfy the "means test." Below, we explain the means test and how to qualify for Chapter 7 bankruptcy. Call a dedicated Poughkeepsie bankruptcy lawyer to explore your options for debt relief.
The Means Test and New York Median Income
A debtor will automatically qualify for Chapter 7 bankruptcy if their income falls below the New York state median income for a household of that size. The median income for the purposes of bankruptcy is periodically updated, so it is important to keep up to date with the current levels. As of May 1, 2021, the New York median income standards are as follows:
Household of 1. $5,058.00 monthly / $60,696.00 annual income
Household of 2. $6,429.92 monthly / $77,159.00 annual income
Household of 3. $7,709.00 monthly / $92,508.00 annual income
Household of 4. $9,368.67 monthly / $112,424.00 annual income
Allowable income is higher for larger households. If a debtor's income is below the applicable standard, the debtor can file for Chapter 7. If the debtor's income is above the threshold, they may or may not qualify for Chapter 7, depending on the result of the rest of the means test.
The Full Means Test
Debtors whose income exceeds the statewide median may still qualify for Chapter 7 under the full means test. The second part of the bankruptcy means test compares the debtor's income to their expenses to determine if they qualify based on their "disposable income," as opposed to their gross income. If a debtor does not have sufficient disposable income to pay their debts, then they should qualify for Chapter 7 protection.
The means test allows the debtor to deduct certain types of household expenses from their income. Many of the allowable expenses, such as those for food and rent, are given a set amount based on national, New York, and local averages as determined by the Census Bureau and the IRS. Debtors can also deduct certain actual expenses, including medical costs and other personal legal obligations. The income left over after expenses are deducted is the debtor's disposable income. If the disposable income falls below a certain level, the debtor may be eligible for Chapter 7.
If you are struggling with debt in New York, contact the talented and detail-oriented Hudson Valley bankruptcy lawyers at the Law Office of Taran M. Provost, PLLC for a free consultation on your case at 845-675-3243.