New York Limo Accident Results in Criminal Charges for Owner of Company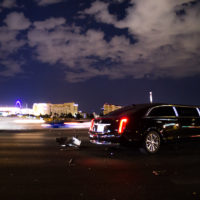 The tragic crash that took the lives of 20 New York residents on October 6 resulted in the most fatalities of any accident in the US in over nine years. The causes of the crash remain under investigation, but the owner of the limousine rental company was recently placed under arrest and charged with negligent homicide. Learn more about the reason for the New York limo accident charges below, and contact a seasoned Poughkeepsie personal injury lawyer for more information if you've been the victim of an auto accident in Hudson Valley.
Auto accident victims' own texts provide evidence of limo defects
By now, you've doubtless heard about the limo accident that resulted in the deaths of all those in the limo, as well as two pedestrians in Schoharie, several miles northwest of Albany. In the wake of the tragic accident, investigators have begun using evidence of conversations, inspections, and text messages sent by the limo's occupants to piece together what happened.
The 17 passengers, headed to a birthday party at a brewery, were riding in a stretched 2001 Ford Excursion. The limo was being driven by a man who lacked the license necessary to drive it. The driver had apparently also voiced his concerns about the safety of his employer's vehicles to his wife, demanding he receive a different vehicle than the one he was assigned. As the fatal trip progressed, passengers sent texts to friends and family members talking about how much noise the limo's engine was making. One member of the birthday party group sent a text describing the burning smell that seemed to be emanating from the vehicle's brakes, and the feeling that the vehicle was coasting.
The organizer of the party had hired the limo earlier on Saturday, after learning that the vehicle he had originally planned to hire for the party had broken down. The limo was operated by Prestige Limousine, owned by Nauman Hussein. What the party's organizer didn't realize was that the vehicle he'd chosen had recently and repeatedly failed New York State inspections—for, among other reasons, inadequate brakes—and had been removed from service. Tragically, Hussein ignored the results of the inspection. He has now pled not guilty to charges of negligent homicide for callously prioritizing profit over customer safety, and he will almost certainly face civil lawsuits filed by the victims of the accident.
If you've been injured in a limousine accident due to negligent vehicle maintenance or have otherwise been hurt by another person's negligence in New York, contact the seasoned, compassionate, and dedicated Poughkeepsie car accident lawyers at the Law Office of Taran M. Provost, PLLC for a free consultation on your case at 845-675-3243.