Inspections Find Many Tractor-Trailers Unsafe on the Road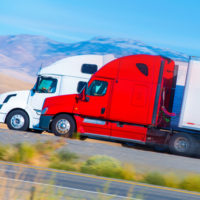 Tractor-trailers, semis, buses, and big rigs are the largest vehicles commonly found on the nation's highways and roads. These vehicles can weigh as much as 20 times what a passenger vehicle would weigh, and as a result they can do exponentially greater damage when involved in an accident. In order to protect both the drivers of these vehicles and those with whom they share the road, federal law imposes strict regulations mandating regular maintenance, best practices on cargo-loading, and rest for drivers. These important regulations have a direct impact on safety, but when they interfere with carrier companies' bottom lines, the companies may encourage them to be avoided.
Annual safety check blitz targets large commercial vehicles
The Commercial Vehicle Safety Alliance conducts the International Roadcheck each year in order to ensure that carrier companies comply with these important safety regulations. The International Roadcheck involves three days' worth of inspections of large commercial vehicles and their drivers across the US and Canada in an effort to get unsafe vehicles and drivers off the road. The troubling results from the International Roadcheck held between June 6-8, 2017, have recently been released.
Thousands of vehicles taken off the road after inspection
During the Roadcheck, over 62,000 inspections were conducted by motor vehicle enforcement officers. In all, about 23% of all vehicles subjected to an initial inspection were taken out of service as the result of the vehicle's safety shortcomings. In total, over 9,300 trucks were taken out of service for violations related to the vehicle itself, and another 2,900 were taken off the road when their drivers were found to have violated safety rules. It is worth noting that the dates of the International Roadcheck were announced months in advance, but drivers and their companies were nevertheless unable to bring themselves into compliance with the laws.
The most common violation found among vehicles taken out of service was a faulty brake system. Trucks were found to have unsafely-loaded cargo in about 16% of cases, and another 15% of vehicles had faulty wheels or tires. Hundreds more vehicles were taken off the road due to safety violations committed by the drivers themselves – largely, violations of federal rules mandating rest for drivers.
Hundreds of vehicles carrying hazardous materials were also found to be too dangerous to be on the road. Nearly 13% of all vehicles carrying hazardous materials were taken out of service after an initial inspection. Of those violators, 40% were found to have improperly loaded or secured their hazardous cargo.
If you or someone you love has been injured in an accident with a large truck in New York, contact the dedicated and effective personal injury lawyers at the Law Office of Taran M. Provost, PLLC for a consultation at 845-675-3243, with additional offices in Mahopac and Poughkeepsie.