How to Improve Your Credit Score After Bankruptcy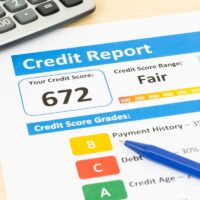 There's no getting around it: Filing for bankruptcy will hurt your credit score. Thankfully, however, the damage is not permanent. Depending upon which form of bankruptcy you pursued, the bankruptcy itself will fully disappear from your credit report after seven or ten years. Well before that time has elapsed, however, you can take steps to significantly boost your credit reputation and score. Read on for tips on how to improve your credit score after bankruptcy. If you're dealing with debt in the Hudson Valley, call a trusted Poughkeepsie debt relief and bankruptcy lawyer at the Law Office of Taran M. Provost to explore your options for debt relief.
Monitor Your Credit Score and Check Your Credit Report
Your credit score and overall profile will improve over time following a bankruptcy discharge. It's important to keep an eye on your credit score, however, to make sure the reporting agencies and your creditors are not making any mistakes that can harm your credit. If you see anything unexpected in your score, check your report to see if something is amiss.
It's also worthwhile to periodically check your credit report, even if you don't notice anything especially off about your score. After your bankruptcy, delinquent accounts that are discharged will remain on your report for a number of years. The clock for individual delinquent accounts to wash away from your credit report runs from the original date of delinquency, if earlier than the date of bankruptcy. After sufficient time has passed, those accounts should disappear from your report, even before the seven or ten years that it takes for the bankruptcy itself to disappear.
If a delinquent account still shows up on your report a few months after it should have disappeared, talk to your bankruptcy attorney to discuss how to get the credit reporting agencies to update your report properly.
Get a Secured Credit Card
You may be surprised to learn that credit card companies, mortgagors, and other lenders are still willing to work with you even shortly after a bankruptcy. Your interest rates may be higher than they would be with better credit, but you can still get credit.
One great way to build credit is to obtain a secured credit card. A secured card requires making a refundable security deposit and then borrowing against it. The interest rates are higher than normal cards, but if you continually pay off the card each month you can avoid paying interest while building your credit in the eyes of the reporting agencies. Many secured card providers will allow you to "graduate" to a traditional, unsecured card once you've made consistent monthly payments for enough time.
Get a Co-Signer
The best way to build credit is to use credit. If you can get someone to cosign a loan, lease, credit card, or other account, you can build credit while benefiting from reduced interest rates earned by your friend or family member. Your cosigner needs to trust you, however; if you stop paying your bills, they will be on the hook, and their credit reputation could be harmed. A co-signed agreement can lead to damaged relationships if allowed to go delinquent.
Become an Authorized User
Being an authorized user is a step below co-signing. You'll be authorized to use someone else's credit card, but you won't have the power to modify the account. The purchases on the card will show up on your credit report as well as theirs, so as long as the card is paid each month, you'll get the benefits of that good credit behavior. It's not quite as effective as getting your own card or loan, but it will still make a dent in the effects of your bankruptcy.
Practice Good Credit Habits
Filing for bankruptcy requires taking a financial literacy course. Take those lessons to heart. Keeping your credit card balances low, paying them off fully each month, setting a monthly budget and sticking to it… all of these behaviors can protect you from sliding back into debt. As long as you're being responsible, your credit score will build back quickly.
If you are struggling with debt in Orange, Ulster or Dutchess County, or anywhere in the Hudson Valley, contact the comprehensive and thorough New York bankruptcy legal team at the Law Office of Taran M. Provost, PLLC for a free consultation on your case at 845-733-2720.