Teen in Critical Condition Following Claverack Car Crash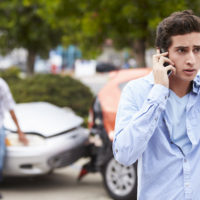 A high school student is in critical condition at Albany Medical Center after a recent two-vehicle crash left portions of Route 23 in Craryville closed for several hours. Continue reading for details about the Claverack car crash and the teen left in a critical condition, and contact a compassionate Poughkeepsie personal injury attorney if you've been hurt in a car accident in New York's Hudson Valley.
Hudson Valley Car Accident Leaves Teen in Critical Condition
A 17-year-old Copake resident was driving eastbound on Route 23, east of the Taconic State Parkway, around 7:40 a.m. on a recent Friday. The Taconic Hills student attempted to turn around in her 1996 Buick but pulled into the path of a 2011 Ford heading west on Route 23, driven by a Hillsdale resident. The two vehicles collided, causing the Buick to roll over and ultimately settle in a ditch in the side of the road.
The high school student was the only occupant of the Buick at the time. She was trapped under the vehicle until the Craryville Fire Department arrived and pulled her out using the Jaws of Life, according to police reports. She had suffered injuries throughout her body, including back, chest, and hip injuries. She was airlifted to Albany Med where she remained in critical condition throughout the day.
The Greenport Rescue Squad transported the Ford's driver to Columbia Memorial Hospital, where she was treated and released. She complained of minor general pain, but there are no reports that she suffered serious injury.
The accident was witnessed by students riding in a nearby school bus, according to a statement from the school district. The district reported that counselors and staff were providing support to the students who saw the crash.
Car crashes are leading cause of teen death in New York State
According to New York's Department of Health, traffic accidents are the leading cause of unintentional death for teens aged 16-17 in New York State. In 2014, the Department reported that around 10 people were killed or hospitalized every day due to car crashes caused by teen drivers. Freshly licensed teens present the highest risk of crashes, particularly during the first few months of driving, and young males are more likely to be involved and injured or killed than young females. Health officials cite inexperience and inability to quickly recognize hazardous situations, tendency towards speeding, and increased likelihood of driving drowsy as several of the reasons why teens present a greater risk of injury and death from traffic accidents.
If you or a loved one has been injured in a traffic accident in New York, seek experienced legal help to evaluate your potential claims by contacting the dedicated and passionate Poughkeepsie personal injury lawyers at the Law Office of Taran M. Provost, PLLC for a free consultation at 845-675-3243.