Hit-and-Run With School Bus Part of Larger Epidemic in New York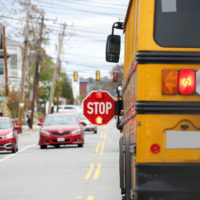 A Hudson Valley woman was recently charged with fleeing the scene of an accident after crashing into a school bus while it was in the middle of dropping off students in Bloomingburg. As selfish and cowardly as that act may seem, the behavior is, unfortunately, part of a growing trend across the country. Hit-and-run accidents are at an all-time high across the country. Learn more about how the accident contributes to the nationwide epidemic below, and contact a dedicated personal injury attorney at the Law Office of Taran M. Provost, PLLC if you've been hurt in an auto accident in New York's Hudson Valley.
Woman Hits School Bus, Flees the Scene
On February first, a 24-year-old Hudson Valley woman was driving her red Jeep Liberty down Burlingham Road in Bloomingburg when a school bus stopped ahead of her to deposit students. The bus turned on its flashing red lights but the woman failed to stop. The woman attempted to drive past the bus but ended up crashing into it as she did so. After hitting the bus, she then fled the scene. Although her actions were extremely dangerous and posed risks to the departing children as well as the other vehicles on the road, there were, thankfully, no injuries reported.
New York State Troopers from the Wurtsboro barracks responded to reports of the crash and began an investigation. Luckily, the officials were able to track down the woman the next day. She was arrested and charged with overtaking a school bus, fleeing the scene of a property damage auto accident, and crossing hazardous markings. Officials stated that additional charges are pending and the investigation remains ongoing.
Hit-And-Run Fatalities at an All-Time High Nationwide
Last year, the AAA Foundation for Traffic Safety issued a report that found that 2,049 people were killed in hit-and-run accidents across the country in 2016. That represents an astounding 60% increase from 2009. Over 65% of the victims were pedestrians or bicyclists. Since 2006, the U.S. has averaged over 680,000 hit-and-run crashes per year, and the number has only been going up. In fact, 2016 had the highest rate of fatal hit-and-run crashes of any year since the National Highway Traffic Safety Administration began recording fatal crashes in 1975.
Hit-and-Runs are a Problem in New York
New York City has not escaped this national trend. Hit-and-run accidents in NYC have been increasing dramatically over the past few years, jumping 26% from 36,000 incidents in 2013 to 46,000 in 2017. The majority of these accidents involve property damage rather than personal injury, but more than 5,000 of these accidents resulted in injury. Tragically, at least one person was killed every week in NYC in 2017.
The rate of success in tracking down the perpetrators of hit-and-run accidents does not inspire confidence. Only nine percent of hit-and-run drivers who injured someone in NYC were later apprehended in NYC. Of cases involving critical injury or death, fewer than half of the perpetrators were ultimately arrested in NYC in 2017. New York officials have been implementing new methods to try to curb this problem, such as an alert system that notifies residents of hit-and-run accidents via phone, radio, and television broadcasts, but the numbers have yet to improve in recent years.
If you or a loved one has been injured or killed in a traffic accident in New York, seek experienced legal help to evaluate your potential claims by contacting the dedicated and passionate Poughkeepsie personal injury lawyers at the Law Office of Taran M. Provost, PLLC for a free consultation at 845-675-3243.