What Happens if the Hospital Loses Your Medical Records?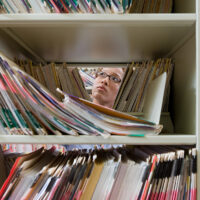 New York State and federal laws regulate how hospitals and other medical providers treat your confidential medical records.  As a patient, you have certain rights that cannot be violated.  If you believe you were the victim of medical malpractice, there are laws that dictate what medical information a hospital is required to provide you.  If the hospital somehow lost (or claims to have lost) your medical records, what should you do?  Read on for a discussion of your rights as a patient in New York, and contact a knowledgeable Hudson Valley medical malpractice and personal injury attorney with any questions.
Hospitals are required to keep your records
According to New York's Department of Health, physicians and hospitals are required under state law to keep patient records for at least six years from the date of the patient's last visit.  For children, doctors must keep obstetrical records and records of children until the later of either six years after the last visit or the child reaches age 19.  That means that if you (or your child) are injured at age 11, the hospital should keep the records until the patient turns 19.
In addition, you have the right to request your medical records, as do other "qualified persons."  Qualified persons include parents or guardians who approved the medical care or if care was provided on an emergency basis.  Your attorney can request medical records for you, as can a committee if the patient is determined to be mentally incompetent.  The hospital may withhold certain parts of your record, such as the doctor's notes and observations, as well as information they believe may cause substantial harm to the patient or others.
If you have a medical malpractice or other personal injury claim, you should be able to access your medical records (or those of a child or family member as described above) to support your claim.  If a hospital refuses to provide you with your records, you can file an appeal with the Health Department.  If the Health Department rules in your favor and the hospital still refuses to comply, then the physician or hospital is committing misconduct.  You or your attorney can inform the Health Department, and the medical provider will be subject to disciplinary action.
Errors in your medical record
If you were the victim of medical malpractice or you suspect you might have been, you can bring a claim against the hospital, physician, or other providers.  As discussed, you have the right to see your medical records provided your visit was within six years of your request (if you are filing a personal injury claim, it almost certainly will be).  If you identify errors in your medical records, such as missing documents or incorrect notes (e.g., notes about you in the wrong patient's file), such errors may form a strong basis for a medical malpractice claim.
If the hospital loses your records entirely and you believe medical malpractice occurred, you may have an even stronger claim.  Lost records suggest, at the very least that the hospital is careless and negligent with patient care, and at worst, it implies that the hospital destroyed your records in order to protect itself from liability.  Missing medical records may not be medical malpractice standing alone, but if you were otherwise injured by a physician's mistake and the hospital cannot provide any records to defend itself, you may have a strong claim for malpractice.  The burden is still on you as the plaintiff to prove that the doctor made a mistake and caused you harm as a result, but the complete absence of records could be evidence in your favor. 
Get Help With Your Hudson Valley Medical Malpractice Claim
If you or a loved one has been hurt by a negligent doctor or other medical professional in New York, find out if you're entitled to money damages through a personal injury lawsuit by contacting the seasoned and talented Hudson Valley medical malpractice and personal injury attorneys at the Law Office of Taran M. Provost, PLLC, with offices in Mahopac and Poughkeepsie.