Benefits of Hiring a Real Estate Attorney to Purchase Property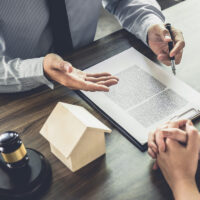 For most people, buying a home will be one of the biggest transactions of their lives. Buying a home is a massive undertaking, and while you can go through the process alone, it pays to have a seasoned legal advisor on your side. Purchasing a home or a property for commercial use is a complex process that involves the application of many federal, state, municipal and county laws, in addition to the financial and business side of the transaction. Continue reading for a discussion of how a real estate attorney can help you with your commercial or residential real estate transaction. If you are planning to purchase real estate in the Hudson Valley, reach out to a knowledgeable Poughkeepsie real estate lawyer to explore your options.
Identify and Apply Complex Real Estate Laws
Purchasing a home triggers a number of laws at all levels of government. As a buyer, you are guaranteed certain rights and disclosures, although you have obligations of your own. The purchase documents must conform to certain standards in order to be effective. When you do settle on a property, that property can only be used for certain purposes due to zoning laws.
A knowledgeable real estate lawyer can break down and simplify the applicable real estate laws for you. They can ensure that all of your rights as a buyer are protected and that no simple mistake undermines and voids the transaction. Your attorney will make sure you understand what you can and cannot do with a given piece of property before you waste time, energy, and money. Should a problem arise down the line, you'll be confident you have a valid sales agreement you can use to support legal action.
Due Diligence and Hidden Issues
A competent real estate attorney will conduct a thorough examination and background check concerning the piece of property you intend to buy. They'll help conduct a title search to root out any issues regarding ownership or liability that might otherwise surprise you down the line. They'll ensure that the proper inspections are conducted in case there are hidden problems with termites, water damage, or other structural concerns. If you need to be aware of easements, use rights, oil rights, border disputes, or tax issues, your attorney will identify and discuss those issues with you before closing. With the right lawyer on your side, you won't need to worry about being surprised with an unpleasant detail about your transaction when it's too late to do something about it.
Contract Negotiation and Special Provisions
You might benefit from special or more favorable terms in your real estate contract. The seller may be offering little or no warranties on a property while verbally representing that the sales agreement is a standard contract. You could be entitled to request additional assurances, options, or other agreements during and after closing. For example, you may prefer a lease with an exclusive option to purchase, you may wish to enter a property tax reproration agreement, or you may want to enter into a post-closing occupancy agreement whereby you own the property but the seller remains in possession. Your real estate lawyer will help you negotiate the most favorable contract for your real estate purchase, and if you might benefit from atypical agreements or provisions, your real estate lawyer will ensure that you are fully apprised of all your options.
An Intermediary Who Gets the Job Done
Your attorney will act as your representative throughout the process. Your lawyer will negotiate on your behalf, set terms that may be uncomfortable to demand directly (such as holding the deposit until closing), and otherwise act as your stand-in through the process. A real estate attorney can "lay down the law" and protect your interests without the interpersonal conflict that might arise between sellers and buyers directly. Your lawyer can protect your rights while still ensuring that the deal closes and you get the property you intend to purchase. They'll also protect you against future liability and legal issues that may arise given the nature or structure of your transaction.
If you need assistance with a commercial or residential real estate transaction in Orange, Ulster, or Dutchess Counties or anywhere in the Hudson Valley, contact the thorough and comprehensive New York real estate legal team at the Law Office of Taran M. Provost, PLLC at 845-733-2720.