Health Department Reports on Influence of Distractions on New York Car Accidents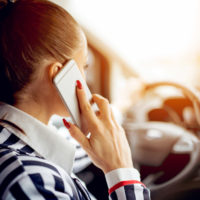 A recent report from the New York City Health Department discusses the driving behaviors of New York residents, including the prevalence of dangerous behaviors such as speeding and texting while driving. The report was published while lawmakers in Albany discuss making New York the first state to legalize use of the "textalyzer" by law enforcement officers to crack down on distracted driving.
Report shows that New Yorkers admit to certain dangerous driving behaviors
The Health Department's report, titled "Driving and Self-reported Dangerous Driving Behaviors in New York City," was based on a survey conducted on New York City residents. Forty-one percent of all residents reported having driven a car in the past 30 days. According to the survey results, 64% of those who had driven in the past month reported having driven over the speed limit during that time. Thirteen percent of those respondents admitted to speeding often.
In other ways, the survey revealed that New York drivers are actually safer than the average American driver. Nationwide, an estimated 31% of drivers admitted to texting or emailing while behind the wheel. However, only 22% of all New York drivers aged 16 and up admitted to texting and driving. Among drivers aged 16 to 19, only 15% admitted to texting or emailing while driving, but that number was 49% among teen drivers nationwide.
Textalyzer would allow officers to identify whether a phone was active immediately before a crash
Meanwhile, legislators in the state capitol are currently considering a bill that would allow law enforcement to scan the phones of all those involved in a car accident to determine whether those drivers had been using their phones in the moments leading up to a crash. The bill would legalize the "textalyzer," an electronic device that, when connected to a phone, can tell the officer whether the cell phone was in use at the time of a crash. Under the proposed law, any driver involved in a crash would be forced to hand over their phone for analysis by this device; if the driver refused, they could lose their driver's license. The device is designed only to notify an officer of whether the phone was active, and not to examine the contents of the phone. The bill received a unanimous vote from the State Senate Transportation Committee, and is currently favored to pass the full Senate.
If you or a loved one has been injured in a New York motor vehicle accident, contact the dedicated and knowledgeable personal injury lawyers at the Law Office of Taran M. Provost, PLLC for a consultation on your case, in Mahopac at 646-942-7827.