Head-On Crash Injures Local Man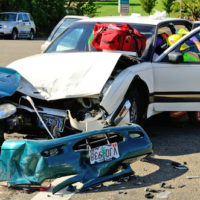 A serious accident involving a large truck has resulted in injuries to three people, including a Poughkeepsie man. The accident is an example of the highly destructive potential of head-on accidents. Read on to learn more, and contact a skilled Poughkeepsie personal injury lawyer if you've been hurt in a head-on crash.
Accident causes truck to roll down embankment
The recent accident occurred in the Putnam County town of Southeast. A pickup truck and a Verizon truck were traveling in opposite directions on Route 22 near June Road. For reasons that are still under investigation, the driver of the pickup truck appears to have crossed the center line, entering the path of the oncoming Verizon truck. The two trucks collided. The impact caused the Verizon truck to roll down a nearby embankment. The two men in the Verizon truck, including the resident of Poughkeepsie, managed to walk away from the crash with what appeared to be minor injuries. Emergency crews spent 40 minutes working to extract the driver of the pickup truck from his vehicle, after which he was transported by helicopter to the Westchester Medical Center in Valhalla with serious injuries.
Head-on collisions often caused by distraction
Head-on crashes are one of the most dangerous forms of motor vehicle accident. While head-on collisions only constitute about 2% of all collisions on US roads each year, they cause roughly 10% of all fatal injury collisions, and 4% of all crashes resulting in any form of injury. Head-on accidents often occur on undivided highways, especially in rural areas. Many head-on crashes result from a driver being distracted by a cell phone, allowing the car to drift out of their lane of traffic. Other common causes include drunken driving, falling asleep behind the wheel, or driver disorientation (especially among elderly drivers). Evidence that a driver was distracted, intoxicated, or drowsy at the time of a crash can all be useful evidence in a claim for money damages resulting from a head-on crash.
If you or someone you love has been injured in a head-on crash in New York, find out if you may have a claim for money damages based on your accident by contacting the knowledgeable and experienced Poughkeepsie personal injury lawyers at the Law Office of Taran M. Provost, PLLC for a consultation at 845-675-3243, with an additional offices in Mahopac.