Getting Less Sleep Makes Drivers Dangerous, According to Research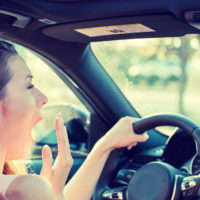 While you likely know that experts recommend you get eight hours of sleep every night, this is much easier said than done. Regardless, recent research shows that your safety on the road might depend on it. According to a newly-released study, drivers who get even slightly less sleep than they should are at a substantially higher risk of being involved in a crash.
The new report was released by the AAA Foundation for Traffic Safety, using data gathered during the National Motor Vehicle Crash Causation Survey. That survey gathered data on crashes where at least one vehicle involved had to be towed from the scene, and where emergency personnel responded to the crash. Crash scene investigators recorded any evidence of crash causes, such as driver error, and interviewed drivers about the amount of sleep they had received and whether it was more or less than their regular amount.
The AAA Foundation analyzed this data, comparing the amount of sleep received by drivers who were determined to be at fault in a crash with that of drivers who were not deemed at fault. The study found that, overall, any driver who received less than seven hours' sleep a night, or who received more than an hour less sleep than they usually did, had an elevated risk of being involved in an accident as compared to drivers who had received seven or more hours' sleep in the previous 24 hours. Drivers who received five to six hours' sleep were nearly twice as likely to be involved in a crash as those who got seven or more hours sleep, and drivers who received less than four hours' sleep had over 11 times the crash rate of those who got seven or more hours' sleep.
The National Sleep Foundation has previously stated that drivers who have received two or less hours' sleep are not fit to drive, but the AAA Foundation researchers suggest that drivers who have gotten between four and five hours' sleep should also be considered to be driving in an impaired state. To this point, the report authors offer that, based on their findings, someone driving after getting only four to five hours' sleep has a crash risk equivalent to someone driving with a blood alcohol level slightly above the legal limit. When a driver has gotten less than four hours' sleep, their crash risk is closer to that of someone who has a blood alcohol concentration of 0.12-0.15%. Victims of drowsy driving crashes may wish to use evidence of the at-fault driver's drowsiness or lack of sleep to prove liability for a crash.
If you've been injured in a car accident in New York, find out if you may have a right to money damages for your injuries by contacting the seasoned and knowledgeable Poughkeepsie personal injury lawyers at the Law Office of Taran M. Provost, PLLC for a consultation, at 845-675-3243, with additional offices in Goshen and Mahopac.