Four Signs that You May Be in Debt Trouble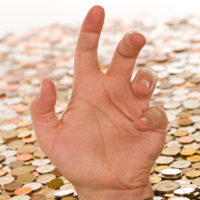 In some cases, you may end up facing an overwhelming amount of debt all at once, such as after a serious medical emergency or a sudden need for serious car repairs. More often, debts quietly accumulate, say, during a period of under-employment or simply by spending more money than you should have. If you've begun receiving notices that your debts are going into collections or are struggling to keep up with monthly payments, it may be time to develop a plan for getting out of debt, such as by filing for Chapter 7 bankruptcy. Read on to consider several signs that your consumer debt has reached problematic levels, and contact a New York bankruptcy attorney with any additional questions.
1. You're only making the minimum payment on your debts each month
The minimum payment listed on your credit card bill is an amount that's designed to keep you in debt, and thus to increase the amount of interest that you owe to your lender. By paying only the minimum amount, your debt will continue to balloon, eventually reaching unmanageable levels.
2. You're borrowing from one credit line to pay down another
By using borrowed money to pay down other debts, you're doubling the amount of interest you owe, not to mention failing to solve the problem of increasing debt.
3. You have multiple credit cards that are near their limit
If you're nearing the edge of your available credit on multiple cards, this is a signal that you're spending more than you earn. This is also a precarious position to be in, should you experience a sudden emergency or need for cash.
4. You use money from your savings or a retirement account to pay for regular expenses
This is another sign that you're spending more than you earn. If you are consistently using money from a savings account or, worse, a retirement account, to afford regular expenses, it's time to make a substantial reduction in your cost of living or in the amount you owe in debt in order to regain control of your finances.
If you're facing mounting consumer debt and want professional help finding a path toward a brighter financial future, contact the knowledgeable and effective Hudson Valley bankruptcy lawyers, the Law Office of Taran M. Provost, PLLC at 646-942-7827.