FMCSA Proposes New Rule on Speed Limiters in Large Trucks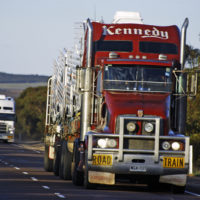 A new rule would compel new large trucks and other large passenger and commercial hauling vehicles to come equipped with a speed limiting device installed, capping the speed of vehicles weighing over 26,000 lbs. to 60, 65, or 68 mph. Versions of the rule have been published by both the Federal Motor Carrier Safety Administration (FMCSA) and the National Highway Traffic Safety Association (NHTSA), to ensure that large vehicles covered by both regulatory bodies' rules are subject to this restriction. The rules are now available for public comment.
US Secretary of Transportation Anthony Foxx announced the new rule, stating that it would not only save $1 billion in fuel costs annually, but that it would save hundreds of lives. "Based on the agencies' review of the available data, limiting the speed of these heavy vehicles would reduce the severity of crashes involving these vehicles and reduce the resulting fatalities and injuries," Foxx said in a press conference. NHTSA Administrator, Mark Rosekind, also lauded the rule, calling it "basic physics." Likewise, FMCSA Administrator Scott Darling said the rule currently under consideration "will save lives while ensuring our nation's fleet of large commercial vehicles operates efficiently."
The American Trucking Association's president and CEO, Chris Spear, announced that he welcomes the new rule. "We are pleased NHTSA and FMCSA have, almost 10 years after we first petitioned them, released this proposal to mandate the electronic limiting of commercial vehicle speeds," he said. "Speed is a major contributor to truck accidents and by reducing speeds, we believe we can contribute to a reduction in accidents and fatalities on our highways."
Other safety groups and trucking industry representatives are less enthusiastic about the new rule. While many large transportation and shipping companies are strongly in favor of the rule and have been using speed limiters in their trucks for years, the Owner-Operator Independent Drivers Association (OOIDA) opposes the rule. They argue that the use of limiters would lead to large trucks speeding in low-speed areas to make up time, and would cause drivers to lose money by forcing them to cover fewer miles in a day. Some groups also point out that forcing trucks to travel at a speed different from the majority of traffic could have negative safety consequences.
Large trucks are responsible for a disproportionate number of fatal and injury accidents on US roads. In fact, one in every ten highway deaths involves a large truck, and the majority of those fatally injured are the occupants of passenger vehicles, rather than those of the truck. Due to their size and weight, these large vehicles are simply harder to bring to a stop, and become exponentially harder to stop as their speed increases. For example, a fully-loaded semi-truck will require nearly 50% longer of a braking distance when traveling at 65 mph as compared to one traveling at 55 mph. 40% of all crashes involving large trucks occur at speeds between 60-75 mph.
If you or someone you love has been injured in a New York truck crash, seek help in getting compensation for your injuries by contacting the seasoned and knowledgeable personal injury attorneys the Law Office of Taran M. Provost, PLLC for a consultation on your case, at 845-675-3243.