Federal Study Finds Speeding as Common a Cause of Fatal Car Crashes as Drunk Driving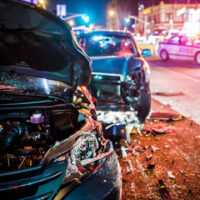 Rare is the driver who isn't guilty of going over the speed limit at least occasionally, if not every time they're on the road. For the most part, drivers are able to get away with speeding without causing serious harm to themselves or others. This can reinforce a dangerous habit, allowing drivers to believe that they're skilled enough to exceed the speed limit and remain in control. According to a study published by the National Transportation Safety Board (NTSB), speeding is one of the greatest threats to those on the road and is cited as a cause in fatal accidents as often as drunk driving. Read on to learn more about the dangers of speed, and contact a knowledgeable New York personal injury lawyer for help if you've been hurt in a speed-related car crash in the Hudson Valley.
The NTSB research looked at the reasons that speed kills, the rates of speed-related crashes, and the possible solutions for the issue. The authors explained that speed increases crash risk both by making accidents more likely to occur, and by increasing the intensity of collisions when they do occur. Studies have shown that, while the increased rate of accidents varies based on the type of roadway involved, an increase in crash rates is exponentially linked to a driver's speed. Studies in Europe and the UK have also shown that decreasing the posted speed limit by as little as 1 km/hour can reduce the crash risk on that road by between 2% and 5.5%.
According to the NTSB's research, between 2005 and 2014, 112,580 motor vehicle fatalities across the country were linked by law enforcement to speeding. This accounts for 31% of all fatalities during that time, which means that speed-related crashes caused roughly as many deaths as drunk driving-related crashes.
The NTSB's report noted that speeding is a deadly habit, but that few members of the public view it with the same amount of disapproval as behaviors such as texting behind the wheel or driving drunk. In reaction to the report, Jonathan Adkins, the director of the Governors Highway Safety Association, stated, "speeding is a factor in approximately the same proportion of traffic fatalities as alcohol impairment, yet it is not subject to same social stigma as drunk driving and is often a forgotten highway safety problem despite its clear significance."
If you've been hurt in a New York speeding crash, find seasoned and professional legal help to get you the damages you deserve by contacting the Mahopac and Poughkeepsie personal injury lawyers at the Law Office of Taran M. Provost, PLLC for a free consultation at 845-675-3243.