Fatalities on US Roads Up Once Again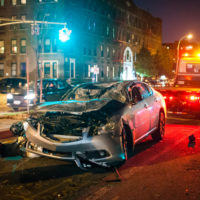 After decades where fatalities on US roads fell year after year, deaths in and around America's motor vehicles have begun rising steadily in the past few years. For yet another year, 2016 saw more deaths on US roads than the year before, with deaths in certain categories rising at an even faster rate than others. Read on to learn about trends in motor vehicle accidents across the US, and contact a New York personal injury lawyer as soon as possible after you've been hurt in an accident.
Precipitous rise in motor vehicle accidents nationwide
The National Highway Traffic Safety Administration (NHTSA) releases reports each year on the number of accidents that occurred the year before and their believed causes, all compiled from data gathered by local law enforcement. Beginning in the 1960s, the total number of fatalities had been on a steady decline each year, until 2014. This marked the first year when total motor vehicle deaths rose over the total from the previous year. The 2016 reports were recently released, and they show that the recent trend of rising roadway deaths has continued. 37,461 people died in or near motor vehicles last year, which is a 5.6% rise over 2015's total. There has been a 14.4% rise in overall traffic fatalities between 2014 and 2016. The NHTSA estimates that an average of 100 people were killed on the road each day in 2016.
Pedestrians, bicyclists, motorcyclists more vulnerable
The fatality rate among motorcyclists, bicyclists and pedestrians—so-called non-vehicle occupants—has risen even faster than those among passenger vehicle drivers and occupants. In 2007, fatalities among non-vehicle occupants accounted for only 25% of all roadway deaths, but as of 2016, they accounted for roughly 1/3 of all deaths in 2016.
While the NHTSA asserted that only 9.2% of all roadway fatalities occurred as the result of distractions in 2016, and only 448 from mobile phone distractions, many experts suggest that these numbers are inaccurate. Among other evidence that mobile phones are causing more fatalities than have been reported, safety experts point to the rise in non-vehicle occupant deaths as evidence. When a driver is looking up at the road from their phone intermittently while texting or emailing, they are more likely to miss smaller objects in their visual field – such as pedestrians or bicyclists – than large vehicles. Additionally, research has shown that drivers activate their phones during over 85% of all car rides, making it unlikely that phones would play a factor in so few fatal crashes. Since handheld texting while driving is illegal in New York, someone injured by a New York driver who was texting behind the wheel may seek to find and use evidence of this behavior to support their claim for damages in court.
If you've been hurt in a crash in New York, find out if you have a right to money damages for your injuries by contacting the knowledgeable and seasoned personal injury attorneys at the Mahopac offices of the Law Office of Taran M. Provost, PLLC for a consultation, at 646-942-7827.