Fatal Crash at Long Island AT&T Store may be Due to Automobile Defect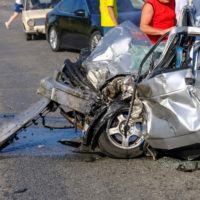 An fatal accident occurred late last March in Long Island when a Toyota SUV drove into a Great Neck AT&T store, killing a woman who was shopping there. The accident occurred in the late morning of March 30th at the AT&T cell phone store on Northern Boulevard near Nassau Road. The driver of the 2006 Toyota RAV4 was a 65-year old woman traveling with her 25-year old daughter. Neither the driver nor the passenger were injured when the Toyota drove into the front store window, but 66-year old Lizabeth Sbar, a customer in the store, was struck by the vehicle and pinned underneath one of its tire. Employees, customers and passers-by were able to lift the car off of the victim, and she was taken to the hospital in critical condition, but she was not able to survive her injuries. Another customer and an employee of the store were also injured in the crash.
No criminal charges have been filed against the driver of the SUV, who claims that she simply was not able to stop the car. Possibly there could have been some malfunction in the vehicle, such as faulty brakes, a stuck or defective accelerator, or electrical problems. In fact, many Toyota models, including the RAV4, have been subject to safety recalls in recent years. In 2010, certain 2009-2010 RAV4 vehicles were part of a major recall due to issues with a sticking accelerator pedal. Also, in 2014, 2012 RAV4 models were recalled for issues with skid control that implicated vehicle stability and the anti-lock brake system (ABS). While the model year involved in the fatal Long Island crash was not subject to one of those recalls, it does raise concerns that a similar type of defect may be present in other vehicles which have not been recalled but perhaps should be.
Whether you believe your accident was caused by negligence of the other driver or a defect in one of the automobiles, contact an experienced personal injury lawyer who can investigate the accident and determine its cause, hopefully holding all responsible parties accountable for compensating injury victims and their families. In Hudson Valley, contact the Law Office of Taran M. Provost, PLLC at our office in Mahopac for a free evaluation of your case.