Dozens Sickened by Flour Tainted with E. coli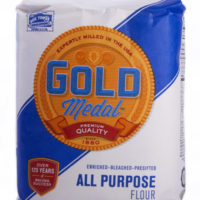 A new and highly dangerous outbreak of disease linked to eating raw dough has resulted in a massive nationwide recall. While you might assume that eggs are the culprit, you'd be wrong—it's the flour. General Mills has issued a voluntary recall notice for some ten million pounds of flour produced by one of its Midwestern plants.
After receiving reports that its flours had been linked to an outbreak of Escherichia Coli, General Mills issued an initial recall on May 31, 2016, encouraging customers to dispose of certain Gold Medal flour products. However, after receiving another report of an E. coli victim who had eaten another General Mills product which was not included on the initial recall list, General Mills expanded its recall. As of July 1, 2016, General Mills has issued a recall of all Gold Medal Wondra Flour, Gold Medal All-Purpose Flour, Gold Metal Self-Rising Flour, and Signature Kitchens All-Purpose Flour that originated from its Kansas City, Missouri plant beginning in the Fall of 2015. The full list of recalled products can be found on the Centers for Disease Control and Prevention website.
The first reported victim of the flour-based E. coli strain was sickened in December of 2015, though the outbreak wasn't linked to General Mills products until much later. Since December, 42 individuals have developed cases of E. coli food poisoning linked to the General Mills flours, with eleven of those requiring hospitalization. Public health officials conducted testing on the foods in the homes of victims in Arizona, Oklahoma, and Colorado, and found that the same genetic strain of E. coli that had made victims ill nationwide could be found in the Gold Medal flours in those victims' homes. The contaminated flour was widely distributed, and has been linked to E. coli cases in 21 states, including New York. E. coli can have extremely serious health consequences for victims, including causing a type of kidney failure, and even death. However, neither effect has yet been reported in conjunction with the strain that has so far been found in the General Mills flour products.
If you or a loved one have been injured or sickened by a dangerous or defective product, seek the compensation you deserve for your medical expenses, lost work, and pain and suffering by contacting the dedicated and knowledgeable New York personal injury lawyers at the Law Office of Taran M. Provost, PLLC for a consultation on your case, at 845-675-3243, with offices in Poughkeepsie and Mahopac.
Hudson Valley personal injury attorneys the Law Office of Taran M. Provost, PLLC report on General Mills recall of flour tainted with E. coli & possible defective products liability.