Distraction from a Cigarette Leads to Crash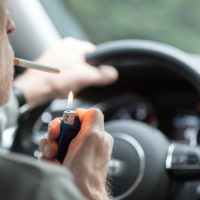 A Sullivan County driver has been injured after being distracted by a dropped cigarette. Ryan Meagher, 33, of Waterford, was driving a Jeep on Route 9, traveling south through Livingston. When Meagher dropped the cigarette he was smoking, the distraction caused his focus to be pulled away from the road. Meagher's Jeep ended up veering off the highway, down a grassy embankment, and flipping over. No other vehicles were involved in the crash. Meagher was taken to a nearby hospital, having incurred injuries to his leg and back.
Distractions while driving can be dangerous at best, and deadly at worst. While cell phone use is often thought of as the main distractor for drivers, there are many other things that can come between a driver's focus and the road with potentially dangerous results. The National Highway Traffic Safety Administration has found that distractions are the cause of 10% of all motor vehicle fatalities, and 18% of non-fatal auto crashes, accounting for approximately 16% of the total economic costs of U.S. car crashes annually. In 2010, accidents in which at least one driver was identified as being distracted accounted for some $40 billion in total economic costs, resulted in 735,000 non-fatal injuries, and 3,267 fatalities.
Researchers describe three types of distractions for drivers: 1) Visual, where a driver is looking at something that isn't the road, such as a passenger, mirror, or screen; 2) Cognitive, where a driver is concentrating on something other than driving, such as an issue at work, or even a topic being discussed on the radio, and; 3) Manual, where a driver has one or both hands off the steering wheel, including while applying makeup, typing an address into a GPS device, or eating. Texting when driving is especially dangerous and responsible for so many accidents due to the fact that it involves all three means of distraction, but that doesn't mean that, if you're not texting, you're driving safely.
There are many ways to get hurt on the road. If you or a family member have been hurt in a crash, seek out experienced and compassionate attorneys to help you recover everything you're owed from the crash, both from other drivers and your insurance company. Contact the experienced Hudson Valley personal injury attorneys at the Law Office of Taran M. Provost, PLLC today, at 845-675-3243.