New York Nursing Home Cited for Violating Public Health and Housing Laws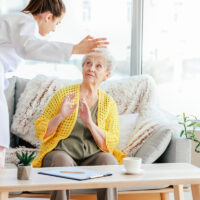 When our parents or other family members reach a certain age and require more medical care, we often entrust their care to a nursing home or other long-term care facility.  Though we place our faith in these facilities, the doctors, nurses, and staff at these facilities do not always provide the level of care we would expect for our vulnerable loved ones.  Elderly residents are subjected to neglect, abuse, or other mistreatment far more often than we would like to believe.  A New York nursing home and rehabilitation center was recently fined after receiving dozens of citations for violations of New York State and federal public health law committed over the last few years.  Continue reading for details about the allegations, and reach out to a dedicated Hudson Valley medical malpractice and personal injury attorney with any questions or for help if your loved one has been abused in a nursing home.
Nursing home one of many cited for abuse, neglect, poor health conditions
Crown Park Rehabilitation and Nursing Center, located in Cortland, New York, received 37 citations for violating state and federal health and housing laws between 2015 and 2019, including 26 citations between 2016 and 2018.  The home was also subject to five enforcement actions resulting in fines between 2012 and 2018.  The violations committed by the nursing home include the following:
The home failed to ensure that the residents were free from abuse and neglect.

 

For example, a citation from January 2018 found that residents were involved in multiple physical altercations with one another caused by a failure of nursing home staff to adequately supervise.

 

The lack of supervision put the residents' safety at risk and led to several injuries.
The home also failed to take adequate steps to protect residents against infection.

 

Nurses employed by the facility were observed to have failed to perform appropriate hand hygiene, including proper hand-washing between glove-switching, when assisting residents with personal hygiene and toileting.

 

The lack of proper hygiene put those residents and others in the facility at risk of infection.

 

The home generally failed to properly maintain an infection prevention and control program sufficient to maintain a "safe, sanitary and comfortable environment" for residents.
Other citations include the home's failure to conduct adequate background checks for their staff sufficient to avoid hiring those with a criminal record or a history of abuse or neglect.

 

The home also failed to thoroughly investigate claims of mistreatment, neglect, or abuse.
Crown Park is one of more than 100 nursing home facilities across the state to receive the lowest possible rating from the federal Centers for Medicare and Medicaid Services (CMS).  CMS rates facilities based on health inspections, staffing levels, and a variety of quality measures, including patient injuries, hospitalizations, and medication management.  While 154 facilities statewide received a five-star rating (the highest), 107 received a one-star rating (the lowest).  Eight of the one-star facilities are located in the Hudson Valley.
Help is Available for Nursing Home Abuse in the Hudson Valley
If you or a loved one has been the victim of nursing home abuse or medical malpractice in New York, find out if you're entitled to money damages through a personal injury lawsuit by contacting the dedicated and effective Hudson Valley medical malpractice and personal injury attorneys at the Law Office of Taran M. Provost, PLLC, with offices in Mahopac and Poughkeepsie.