Crashes Resulting from Debris in Roads Common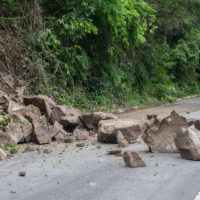 It isn't uncommon to see a precariously-loaded vehicle and wonder whether (or simply, when) that vehicle will spill a portion of its contents onto the road behind it—and what would happen to the other vehicles around it when it did. One safety group recently looked at data on so-called road debris crashes and created a report documenting the rate of such accidents, as well as the number of injuries and fatalities they cause. The report also offered suggestions on steps drivers should follow to prevent these accidents from occurring.
Objects falling into lanes of traffic can be extremely dangerous—even lethal—to other drivers. When an object falls off a vehicle traveling at a speed of 50 mph, that object can impact a vehicle behind it with over 1,000 lbs. of force. The AAA Foundation for Traffic Safety conducted a study using data gathered by federal safety bodies on road debris accidents and recently published a report detailing its findings. The study was conducted using witness accounts and statements from law enforcement regarding police-reported crashes attributed to either: an item falling out of a vehicle into the path of or onto another vehicle; a vehicle colliding with a loose object in traffic; or a driver swerving to avoid an object in the road. The study found that there was an annual average of 50,658 road debris crashes, causing an average of 9,805 injuries, 125 of which were fatal.
Among the three categories of road debris accident that researchers examined, the type of accident found most likely to cause fatal injuries to those involved was that resulting from a driver swerving to avoid a collision with an object. The researchers suggested that these drivers were more likely to strike a car in a neighboring lane, roll over, or hit a fixed object on the side of the road such as a cement median or tree. As a result, the report's authors recommend that, if a collision with a loose object seems inevitable, it may be safer to brake as much as possible before impact rather than swerving sharply to avoid hitting the object.
New York drivers are required under the vehicle and traffic laws to restrain cargo securely using ropes, straps, and tarps to prevent road debris accidents. Drivers who fail to take reasonable measures to prevent items from falling loose into the roadway risk incurring substantial liability through a personal injury lawsuit for any property damage or physical injuries that result from a road debris accident.
If you've been hurt in an accident caused by a negligent or reckless New York driver, find out if you have a claim for money damages by contacting the experienced and dedicated Poughkeepsie personal injury attorneys at the Law Office of Taran M. Provost, PLLC for a consultation at 845-675-3243, with an additional office in Mahopac.