The Difference Between Consumer Debt and Business Debt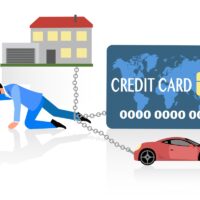 For millions of Americans drowning in debt, Chapter 7 bankruptcy provides a means to obtain financial relief and a pathway to start over. Not all debtors are eligible for Chapter 7 relief. Debtors who file for Chapter 7 bankruptcy typically must satisfy the "means test" to demonstrate that they are the kind of debtor for whom Chapter 7 was designed. Depending on the nature of your debt, however, you might not have to worry about the means test. To learn about the difference between consumer debt and business debt and why it matters, read on. If you are struggling with debt, call a knowledgeable Poughkeepsie debt relief and bankruptcy lawyer to explore your options for debt relief.
The Chapter 7 Means Test
Chapter 7 bankruptcy is designed to help lower-income individuals obtain financial relief. Debtors whose income falls below the state median for a household of their size automatically qualify for Chapter 7 relief. Debtors who have income above the state median might still qualify by satisfying the bankruptcy "means test." The means test involves comparing the debtor's income from all sources to their expenses and utilizes a complex calculation to determine their "disposable income" level. Debtors whose resulting disposable income is below a certain threshold qualify for Chapter 7 relief.
Why Consumer Debt vs. Business Debt Matters
The Chapter 7 means test only applies to debtors who are primarily dealing with "consumer debts." If more than half of the bankruptcy petitioner's debts are non-consumer or "business debts," then the debtor can qualify for Chapter 7, and receive a bankruptcy discharge, without needing to take or pass the means test.
What Qualifies as Consumer Debt vs. Business Debt?
As a general rule, business debt includes anything that does not qualify as consumer debt. Business debt is also referred to as "non-consumer debt" for this reason. As a result, the valuation for Chapter 7 purposes focuses on the definition of consumer debt. As defined in the bankruptcy code, consumer debt refers to any debt incurred by an individual "primarily for a personal, family, or household purpose." Business debt would then be any debt not incurred for personal or household purposes.
When evaluating whether something is a consumer or a non-consumer debt, it is easiest to look at the reason for the expense rather than the source of the debt or the name of the transaction type. If you used the money to pay for a personal, family, or household expense or used it to purchase a good for yourself, your family, or your household, then it is probably a consumer debt. Some of the more common consumer debts include:
Car loans
Cosmetic medical expenses
Credit card bills for personal purchases
Home mortgages
Personal loans
Spousal or child support
If you used the money for another purpose, then it is likely a business or non-consumer debt. Common business debts include:
Taxes
Tort claims
Mortgage on a commercial property
Loans to fund a business venture
Certain types of debts have been called consumer debt by some courts and non-consumer debts by others, including necessary medical expenses and student loans. Talk to a seasoned bankruptcy and debt relief attorney about your debt for a clear analysis of whether you have sufficient non-consumer or business debts to qualify for Chapter 7 without having to resort to the means test.
If you are struggling with debt in New York, contact the knowledgeable and compassionate Hudson Valley bankruptcy lawyers at the Law Office of Taran M. Provost, PLLC for a free consultation on your case at 845-675-3243.