Concussions Often Caused by Falls and Accidents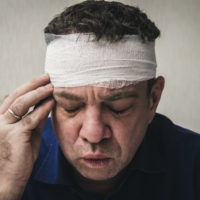 Head injuries are one of the largest contributors to the total number of accidental deaths every year. In fact, the Centers for Disease Control & Prevention (CDC) states that an average of 138 people die each day from a head injury and estimates that 30% of all accidental deaths involve a head injury. Traumatic Brain Injuries (TBIs) can come in many forms, the most common of which is the concussion. Learn more about concussions, how they occur, and the consequences of suffering a concussion in an accident, below.
Concussions commonly caused by accidents
According to the CDC, TBIs were the cause of emergency room treatment, hospitalization or death for approximately 2.5 million individuals in 2010 alone. Concussions are caused by a victim's head being suddenly struck or jostled in such a way that the brain, normally protected by cerebrospinal fluid in the head, is injured by the skull. In more severe cases, the victim may experience broken blood vessels or bleeding on the brain, which can cause damage or death to portions of the brain.
The single largest cause of concussions across all populations is fall injuries. Children under 14 and adults under 65 are especially likely to suffer a brain injury as the result of a fall. Sometimes, these falls are the result of negligence by a property owner or owner of a business, such as an owner failing to repair a dangerous condition or allowing a hazard to develop on their property. In that case, a concussion victim may have a legal claim against the property owner for the costs of their medical care, lost wages, and pain and suffering.
Concussion symptoms
Not all concussions result in the loss of consciousness, which is a common misconception. Often, concussion victims will simply feel disoriented and fuzzy after a head injury. As the injury takes effect, victims may experience a headache, nausea, fatigue, or ringing in the ears. Some concussion victims may become irritable or moody, easily becoming frustrated. Concussion sufferers may have difficulty concentrating, or have trouble with their short- or long-term memory.
If you've suffered a head injury after a slip-and-fall accident, car accident, or motorcycle accident in New York, find out if you have a claim for money damages by contacting the seasoned and dedicated Poughkeepsie personal injury lawyers at the Law Office of Taran M. Provost, PLLC for a consultation on your case, at 845-675-3243, with an additional office in Mahopac.