Advantages and Disadvantages of Bankruptcy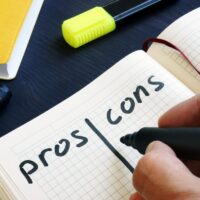 Every year, bankruptcy literally helps hundreds of thousands of people in the U.S. take control of their finances and find a way out from overwhelming and burdensome debt. Even so, bankruptcy might not be right for everyone struggling with debt. Before you decide to file for bankruptcy, it's important to know both the advantages and disadvantages of bankruptcy, so you can make an informed decision with your eyes open and a good idea of what to expect.
Read on to learn more about the advantages and disadvantages of bankruptcy. If you are needing advice or professional assistance with debt relief in Poughkeepsie, Goshen, or throughout the Hudson Valley, call on the Law Office of Taran M. Provost, PLLC, to share your concerns and discuss your options with a skilled and experienced New York bankruptcy lawyer.
The Advantages of Bankruptcy
Immediate Relief through the Automatic Stay
Upon filing for bankruptcy, an "automatic stay" comes into effect, which puts a stop to most collection activities, including phone calls, wage garnishments, foreclosures, repossessions, and lawsuits. This immediate relief can provide much-needed peace of mind for debt-ridden individuals in Poughkeepsie, Goshen, and the Hudson Valley, giving you breathing room while you sort out your path to financial freedom.
Discharge of Debts
One of the primary benefits of bankruptcy is the potential to wipe out unsecured debt, like credit card bills, medical expenses, and personal loans. This can provide a fresh financial start and set the foundation for a more stable financial future.
Property Protection
Contrary to popular belief, filing for bankruptcy doesn't mean you'll lose everything. With Chapter 13 bankruptcy, you can protect your home from foreclosure and obtain relief without putting any property at risk, and under New York's generous bankruptcy exemptions, Chapter 7 filers are able to keep their car, home, and personal belongings while still ridding themselves of unsecured debt.
Improved Credit over Time
While bankruptcy does negatively impact your credit initially, it's often the first step toward rebuilding your financial health. With good habits post-bankruptcy, you can start rebuilding your credit score immediately.
The Disadvantages of Bankruptcy
It's important to acknowledge that bankruptcy is not a one-size-fits-all solution and does have certain disadvantages.
Impact on Credit
Bankruptcy will be reflected on your credit report for up to ten years (seven years for Chapter 13 and ten years for Chapter 7), which can impact your ability to secure credit on favorable terms, rent an apartment, or sometimes even get a job. However, at the Law Office of Taran M. Provost, PLLC, we'll guide you on the path to credit recovery.
Non-Dischargeable Debts
Not all debts can be wiped out in bankruptcy. For instance, child support, alimony, certain tax debts, and student loans (except in rare cases) are generally not dischargeable. Depending upon the type of debt you are carrying, bankruptcy might not be especially helpful, or it might be a lifesaver.
Stigma Around Bankruptcy
There is a societal stigma associated with bankruptcy, but remember, bankruptcy is a legal tool designed to help individuals regain their financial footing. Many of our nation's most revered historical figures and most successful business leaders took advantage of the protection and help bankruptcy offers at some point in their lives.
Potential Loss of Luxury Assets
While many of your assets can be protected in bankruptcy, luxury items are often not included. If you own valuable non-exempt property, you might have to give it up in the bankruptcy process. Find a bankruptcy lawyer who offers a free initial consultation so you can share your concerns and find out whether any of your valuable property is truly at risk or whether it might be safer with bankruptcy than without.
Call Taran M. Provost for Help With Bankruptcy in the Hudon Valley
For residents of Poughkeepsie, Goshen, and the Hudson Valley struggling with insurmountable debt, bankruptcy could provide a feasible route to regain control over your financial future. While there are disadvantages to consider, the benefits can often outweigh the negatives for those overwhelmed by debt.
Here at the Law Office of Taran M. Provost, PLLC, we are dedicated to providing you with the information you need to make the best decision for your circumstances. If you're considering bankruptcy, reach out to us for a free consultation at 845-675-3243. Together, we can chart your path to a brighter financial future.